Articles Tagged "Peter C Glover"
Friday, September 24th 2010, 9:14 AM EDT
What is new, however, is Russia's adopting of Western ways of conflict resolution, as exemplified by repeated Russian commitments to resolve all Arctic-related issues through dialogue.
Now I remember why I stopped going to international conferences. Leaving out the opening addresses, we heard 20 speakers throughout the day. The downside to giving speakers ten minutes to speak, however, is that the succinct can only manage bullet points (that lack explanation) while the verbose plow on without PowerPoint regardless of the clock.
Not that most speakers were bad, by any means.
Click source to read FULL report from Peter C. Glover
Moscow) Let's face it, though the UN Law of the Sea Department has yet to confirm it, at least 60 percent of the Arctic is Russian territory. It's no surprise, then, that The Arctic: Territory of Dialogue two-day conference (still underway at time of writing) held in Moscow has – with various Arctic Council members in attendance – rubber-stamped Vladimir Putin's Russia as the de facto "chair" of proceedings on all thing Arctic, not least the region's mineral riches.
Monday, February 2nd 2009, 10:18 AM EST
In November 2008, NASA's Goddard Institute for Space Studies (GISS), run by Dr James Hansen, and one of the four bodies responsible for monitoring global temperatures, announced that October 2008 was the "hottest on record". Which must have come as something of a shock to the countless millions who trudged through the heavy snow and ice in what they had been told was an unseasonally cold October. But then Hansen should know. He is, after all, climate alarmism's 'Mr Big'. But then this is far from the first time Hansen has been caught 'fiddling' the climate figures.

In October, two independent monitors at Watts Up With That and Climate Audit, performed their own detailed analysis of Hansen's reported data. What they found should disturb us all. They discovered that the GISS readings from across a swathe of Russia that appeared to reveal a warming of 10 degrees above average were not readings for October at all. They were a repeat of September's readings.

Thursday, June 18th 2009, 7:04 PM EDT
When the global warming alarmist house of cards finally collapses, exposing the pseudo-science/scare-journalism axis that has perpetrated the world's greatest mass delusion, among the first led out into the public square for ritual humiliation ought to be BBC 'science' and 'environment' correspondents.

Firstly, for submitting fraudulent CV's to BBC Human Resources claiming they actually knew something about science. Secondly, for asserting, as public service (public-paid) broadcasters, that they were only reporting 'what scientists were saying.'

No doubt they will also adopt the same mitigation Scoop's William Boot called upon - that they were really only Gardening Correspondents who took a wrong turn in the BBC corridor one day. They will claim that their news editors 'water-boarded' destroying their 'testicular fortitude' thereby forcing them to concoct a veritable cornucopia of journalistic drivel to feed the public angst. That resulting in warnings of global apocalypse via everything -- everything from swine flu to SARS to the Mad Cow Disease (not to mention their 'toxic' farts) -- but, mainly by employing the daddy of all scare scams: warm-mongering.
Monday, February 23rd 2009, 6:23 AM EST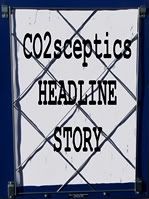 Peter C Glover is European Associate Editor with US-based Energy Tribune and writer on political, energy and media affairs. He is a former national spokesman for the UK Crown Prosecution Service.
Eco-warriors and media hype aside, the fact is, as we head into 2009, that the world's ice mass has been expanding not contracting. Which will surprise evening news junkies fed a diet of polar bears floating about on ice floes and snow shelves falling into the oceans. But if a whole series of reports on ice growth in the Arctic, the Antarctic and among glaciers are right, then it is truth in the mainstream media (MSM) that's in meltdown not the polar ice caps.
The problem for the MSM is that it long ago nailed its colors to the climate alarmist mast. No ice cap meltdown, no rising waters. No disappearing islands, no reason for alarm. No alarm, no story. Worst of all having called yet another global apocalypse wrong: No credibility. So the MSM has a significant stake in running highly selective warm-mongering headlines. Not to mention disparaging those scientists who have the temerity to disagree as 'holocaust deniers' and 'pseudo-scientists'.