Articles Tagged "Solar News"
Thursday, September 27th 2012, 7:04 AM EDT
WAITING for solar fireworks to reach a grand finale next year? Um, sorry, looks like you already missed them. Structures in the sun's corona indicate that the peak in our star's latest cycle of activity has been and gone, at least in its northern hemisphere.

The southern hemisphere, meanwhile, is on a sluggish rise to solar maximum and may not hit its peak until 2014.

This bizarre asymmetry strengthens a theory that has been bubbling among sun watchers for the past few years: our star is headed for hibernation. Having the sun's outbursts turned off for a while would provide a better baseline for studying how they influence Earth's climate.

Observations of magnetic footprints called sunspots revealed in the 1800s that the sun moves through a roughly 11-year cycle of activity. Around a solar maximum, the star ramps up production of sunspots, flares and ejections of plasma. During a solar minimum, things quieten down.

Following an unexpectedly deep minimum from 2008 to 2010, solar physicists predicted a weak maximum for 2013. These days, though, sunspots aren't the only tools for charting the solar cycle. Richard Altrock of the US Air Force Research Laboratory in New Mexico has been studying coronal structures called polar crown prominences, which stem from magnetic rumblings on the sun's surface.
Thursday, April 16th 2009, 1:03 PM EDT
New global warming research released in the book "Global Warming - Global Cooling, Natural Cause Found," can now be downloaded free. Research illustrated within the book, links the Moon's recurring gravitational cycles as the primary driving force causing 2200 global warming events during the past half million years, including the earth's current warming cycle which is now ending.
It also links these natural cycles to the 50 percent increase in atmospheric carbon dioxide levels seen during the past 8 thousand years, not just the past 150 years. Due to the significance of these findings, Meteorologist and climate researcher David Dilley of Global Weather Oscillations, is now offering the book free to download on the website
www.globalweathercycles.com
.
His book is written in non technical language so everyone from middle school to college professors can understand these important findings concerning the earth's natural cycles. Mr. Dilley, says the gravitational cycles act like a magnet by pulling the atmosphere's high pressure systems northward or southward by as much as 4 degrees of latitude (approximately 380 kilometers - 240 miles) from their normal seasonal positions. As the current gravitational cycle declines, global temperatures began cooling in 2008-09 and there will be dramatic cooling by 2023.
Sunday, February 19th 2012, 9:23 AM EST
In a recent article from National Geographic by Jason Major headed "Venus Spinning Slower Than Thought—Scientists Stumped", he mentioned the following..
Planet lovers take note: Venus is spinning even slower than astronomers thought, according to new data from a European space probe.

In the early 1990s scientists with NASA's Magellan mission calculated that a single rotation of Venus takes 243.015 Earth days, based on the speed of surface features passing beneath the orbiting spacecraft.

But scientists now mapping Venus's surface with the European Space Agency's Venus Express orbiter were surprised to find the same features up to 12.4 miles (20 kilometers) from where they were expected to be, based on the previous measurements.

According to the new data, Venus is rotating 6.5 minutes slower than it was 16 years ago, a result that's been found to correlate with long-term radar observations taken from Earth.
Wednesday, November 14th 2012, 7:26 AM EST
This YouTube from Australia is fun watch. This is a replay of the total solar eclipse, as ANU professor of astronomy Dr Charley Lineweaver joins ABC News Breakfast to explain what is going on

Astronomy professor explains solar eclipse - Published on Nov 13, 2012 by NewsOnABC



Some good comments below from Peter Spinks...

Eclipse sheds light on sizzling sun by Peter Spinks - smh.com.au

Solar cycle
Thursday, April 23rd 2009, 4:01 AM EDT
The Sun isn't playing ball with the 'global warmers'. Indeed, I expect one of our more rabid Labour ministers to come out any day now fatuously accusing the fading star of 'global warming' denial on a par with denying the effects of smoking or the link between HIV and AIDS.
Thursday, December 6th 2012, 6:05 PM EST
Click source for bigger image
Tuesday, June 14th 2011, 5:15 PM EDT
Physicists say sunspot cycle is 'going into hibernation'
What may be the science story of the century is breaking this evening, as heavyweight US solar physicists announce that the Sun appears to be headed into a lengthy spell of low activity, which could mean that the Earth – far from facing a global warming problem – is actually headed into a mini Ice Age.
The announcement made on 14 June (18:00 UK time) comes from scientists at the US National Solar Observatory (NSO) and US Air Force Research Laboratory. Three different analyses of the Sun's recent behaviour all indicate that a period of unusually low solar activity may be about to begin.
The Sun normally follows an 11-year cycle of activity. The current cycle, Cycle 24, is now supposed to be ramping up towards maximum strength. Increased numbers of sunspots and other indications ought to be happening: but in fact results so far are most disappointing. Scientists at the NSO now suspect, based on data showing decades-long trends leading to this point, that Cycle 25 may not happen at all.
Monday, April 20th 2009, 4:16 AM EDT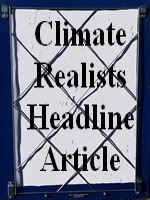 The global cooling trend that began early in 2007 continues. America's official global reading for March, 2009 has been issued by Goddard Space Institute. The month was the coldest of this young century and colder than March of 1990. The satellite records show an even stronger recent cooling trend.
Equally interesting, Goddard says this year's March was just 0.03 degrees warmer than March of 1981, a year when the El Nino/La Nina index was approximately the same as today's. Does that mean the planet's net warming is only three hundredths of a degree C over the last 30 years? Thanks to Czech physicist Lubos Motl for spotting that relationship.
Meanwhile, the Director of the Goddard Institute, James Hansen, recently sent a letter to President Obama saying that Obama has "only four years left to save the earth" from "runaway warming." He told the London Observer in February that "The trains carrying coal to power plants are death trains. Coal-fired power plants are factories of death." Hansen maintains that recent warming has pushed the planet close to a "tipping point" for runaway warming. What recent warming? Three hundredths of a degree C over 30 years, with temperatures still declining, doesn't seem worth ruining the world's economies.
Monday, September 24th 2012, 4:51 PM EDT
Periodic changes in winds 15 to 30 miles high in the stratosphere influence the seas by striking a vulnerable "Achilles heel" in the North Atlantic and changing mile-deep ocean circulation patterns, which in turn affect Earth's climate.

This is the finding of a University of Utah study.

"We found evidence that what happens in the stratosphere matters for the ocean circulation and therefore for climate," said Thomas Reichler, senior author of the study.

Funded by the University of Utah, Reichler conducted the study with University of Utah atmospheric sciences doctoral student Junsu Kim, and with atmospheric scientist Elisa Manzini and oceanographer Juurgen Kroger, both with the Max Planck Institute for Meteorology in Hamburg, Germany.

Reichler and colleagues used weather observations and 4,000 years worth of supercomputer simulations of weather to show a surprising association between decade-scale, periodic changes in stratospheric wind patterns known as the polar vortex, and similar rhythmic changes in deep-sea circulation patterns. The changes are:

"Stratospheric sudden warming" events occur when temperatures rise and 80-mph "polar vortex" winds encircling the Artic suddenly weaken or even change direction. These winds extend from 15 miles elevation in the stratosphere up beyond the top of the stratosphere at 30 miles. The changes last for up to 60 days, allowing time for their effects to propagate down through the atmosphere to the ocean.
Wednesday, April 14th 2010, 5:47 AM EDT
When the Sun's magnetic output is low, winters in Europe tend to be cooler than average – whereas higher output corresponds to warmer winters. That is the conclusion of a new study by physicists in the UK and Germany that looked at the relationship between winter temperatures in England and the strength of the Sun's magnetic emissions over the last 350 years. The group predicts that, global warming notwithstanding, Europe is likely to continue to experience cold winters for many years to come.
The possibility of a link between European winter temperatures and solar activity can be seen in historical records from the second half of the seventeenth century. For about 50 years the Sun remained free of sunspots (in contrast to its normal 11-year cycle of sunspot highs and lows) and at this time Europe experienced a number of harsh winters. Motivated by the fact that the relatively cold winters of the past few years have come at a time when solar activity fell to the lowest values for 100 years, Mike Lockwood of the University of Reading and colleagues set out to establish whether or not there is a strong connection.
Lockwood and colleagues used data from the Central England Temperature record. This provides monthly temperature data from several monitoring stations in central England all the way back to 1659 – the world's longest instrumental temperature record. The researchers first removed the estimated contribution from the warming recorded in the northern hemisphere as a whole over the past century – which is widely believed to have been caused by increasing levels of manmade carbon dioxide in the atmosphere. Hemispheric temperature records data back to 1850; to extend the analysis back to 1659 they used data from a number of different proxy sources, such as tree rings, isotope concentrations in stalagmites, sediment depths, lake heights and documentary evidence.
Click source to read FULL report