Articles Tagged "Via Email"
Saturday, March 20th 2010, 9:38 AM EDT
Below is the original email sent to NOAA and below that is their response to that email. (Statements in BOLD are my additions for this email in an attempt to further help you delineate the sequence of events. Please let me know if I have somewhat confused you about the events……

Here's the original email sent to NOAA and also blind copied to you:

Subject: Data Quality issues

To:nssl.data@noaa.gov

Please find two documents attached to this email.

The files contain Upper Air sounding data for Station 70273 PANC

Anchorage, AK.

File "uwyo.txt" data was obtained from
Saturday, October 10th 2009, 5:43 AM EDT
Using the UN IPCC's own published data, the "science" of man-made climate change is scrutinised and found wanting.
"
Based on government advertising and campaigns, you may be worried that humans are warming our planet catastrophically. From what I've seen from IPCC data provided by the IPCC itself, the government's position is unfounded."

"The IPCC itself provides information discrediting its own computer models and claims. Although not mentioned in the IPCC's Summary for Policymakers handed to governments and the media, the IPCC's Fourth Assessment Report of 2007 (4AR) discloses that climate models could not reproduce the average temperatures observed unless those models included estimates of the impact of human production of 'greenhouse gases'. Even though human production of 'greenhouse gases' is trivial besides Nature's overwhelming production, the IPCC explains the failure of its models by blaming the errors on the tiny human portion (3%) of Earth's annual CO2 production.

This conclusion by the IPCC is based on an implication that the computer models of natural climate were 100% accurate and reliable. But the IPCC report itself advises that the level of scientific understanding of the majority of climate drivers is very poor."

"Thus, the IPCC claims human production of CO2 causes global warming simply because that is its excuse for the error in its models. No logic, no data. Only a political need."
Best regards,
Hans Schreuder
Source Link:
tech-know.eu
Monday, March 22nd 2010, 7:23 AM EDT
You may have heard of Peter Spencer, the desperate Australian farmer who went on a hunger strike to draw attention to the fact that government bans on clearing vegetation had stolen his assets and destroyed his business. Peter is just one of many Australian farm families reduced to desperation and even suicide by seizure or sterilisation of their land to satisfy the voracious green god.

The most massive injustice occurred a couple of years ago, when, as a sacrifice to the Kyoto god, the federal government conspired with state governments to ban vegetation clearing on all property, even freehold. This was done in an underhand way to allow the government to seize carbon credits from landowners without paying compensation.

Many well meaning people, while not happy with the tactics and the refusal to pay compensation for property seized or devalued, think that there will be some environmental or climate benefits to come from all this.

Generally there are none.
Thursday, March 25th 2010, 6:44 AM EDT
Click for bigger image
I've noticed that BOM uses different stations for measuring annual
mean temperature then what stations they use for daily and monthly
readings.
There seems to be a few more used for the annual stations then daily.
The thing that has my curiosity is that, would placing greater stations in areas of greater warming effect the rate of graphed
warming?
I've put it all into one image with each map layered over each other and noticed an imbalance.
Not to mention a station missing in the only place to have a negative trend.
Here's the original links from BOM.
Saturday, September 19th 2009, 4:50 PM EDT
According to this press release (in danish) the danish peoples party which supports the ruling government in Denmark will arrange an alternative climate conference in Copenhagen at the same time as the Official climate meeting.
http://www.berlingske.dk/article/20090919/klimapolitik/709180103/
Først half translated in google (and quickly edited):
DF (Dansik Peoples Party) arranges an alternative climate summit
When world leaders gather in Copenhagen to resolve climate problems, DF will be inviting people to an alternative climate summit.
By Morten Henriksen - Chris Kjær Jessen and Uffe Tang, moh@berlingske.dk
While the Danish government has worked hard to get all the world countries to agree to do something about anthropogenic climate change in Copenhagen in December, the governments support party DF are contributing with an alternative conference. Here, some of the experts who feel disregarded and ignored in the climate debate, should be allowed to air their ideas feel the DF, who apparently think that "the government has been a part of an establishment that has monopolised the anthropogenic climate debate".
Thursday, January 29th 2009, 8:55 AM EST
Dear Mr. Morano,

On the official US senate minority web site you cite a blog that accuses me of scientific fraud.

(http://epw.senate.gov/public/index.cfm?FuseAction=Minority.Blogs&ContentRecord_id=fc7db6ad-802a-23ad-43d1-2651eb2297d6)

You write:

"A critical analysis of the paper from December 21, 2008, accused the authors of the Antarctic study of making questionable data adjustments.

Updated below by Richard Courtney

Saturday, August 30th 2008, 6:02 AM EDT
Proof that anthropogenic CO2 is not accumulating
by Alan Siddons

Anthropogenic CO2

By current estimates, man is pumping about 4 ppm of CO2 into the air every year. But the atmospheric level is rising only 2 ppm every year. Theory has it, then, that half of human emissions are presently getting absorbed by so-called carbon sinks, thereby cutting the net emission in half every year.

Yet if half of human emissions stay in the air and the other half goes elsewhere, this proves that anthropogenic CO2 is not accumulating — the reason being that absorption is an ongoing process. A 50% reduction factor cannot be applicable only once. The next year would naturally see a further reduction. And so forth.

Monday, July 13th 2009, 1:21 PM EDT
Letter to The Editor & To all Honourable Members of Parliament

No. 1 of a Series - IPCC's Greenhouse theory has No Legs

In theorising global warming is caused by human production of CO2, the IPCC relies on this theory:
- sun radiates light
- that heats the Earth
- which radiates heat to space.
- CO2 traps some of this heat and radiates it back to Earth
- which heats the Earth some more, which radiates even more heat, which CO2 traps... and so on.

In this IPCC "new science", a cooler body (atmospheric CO2) heats a warmer body (Earth). This contravenes the Laws of Nature.
Monday, February 23rd 2009, 1:25 PM EST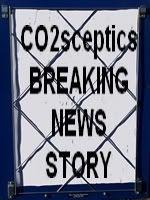 By James M. Taylor
Calls are mounting for President Barack Obama to fire James Hansen, the controversial figure in charge of climate studies at the National Aeronautics and Space Administration (NASA).
Hansen has a record of allegedly doctoring temperature data to hype his argument that global warming is a crisis. The new calls for his resignation or termination come following his appearance in a
video calling for civil disobedience at a protest at a power plant in Washington, DC
.
"It is plainly improper for someone on the U.S. government payroll to advocate civil disobedience on behalf of a non-government advocacy group," said Dan Miller, executive vice president of The Heartland Institute and former chairman of the Illinois Commerce Commission. "As long as a public official is on the public payroll, his first loyalty is to his constituency, not to some outside pressure group calling on people to break the law," Miller said.
Updated: Join the following FaceBook group to register your protest against James Hansen - Fire James Hansen - NASA Climate Chief
Monday, July 14th 2008, 6:52 AM EDT
Fax Transmission:

To: All U.S. Senators From: Bob Ashworth
& Representatives Date: July 14, 2008
Time: 9:34 AM

Gentlemen/Ladies:

The Great CO2 Global Warming Hoax

The claim by the Intergovernmental Panel on Climate Change (IPCC) that carbon dioxide is causing global warming is bogus science based on models developed around 2000 (the old garbage in-garbage out scenario). See the graph developed from actual data by meteorologist Joseph D'Aleo; even a non-scientist can see there is absolutely no correlation between the concentration of atmospheric CO2 and the earth's temperature.

CO2 is not a pollutant, it is part of the animal-plant life cycle, without it, plant life would not exist on earth. Further, increased carbon dioxide in the atmosphere increases plant growth, which is a very good thing. Further, the amount of anthropogenic carbon dioxide in the atmosphere that was emitted by man is around 3% of the total. In 2008, the concentration of CO2 in the atmosphere was 385 ppmv (parts per million by volume).

Therefore, man's total anthropogenic contribution is only 12 ppmv, a miniscule amount and if man produced no CO2 at all, the amount in the atmosphere would only drop back to the level we had in 2002-2003.