Articles Tagged "Joe Daleo"
Sorted by:
Date Posted
|
Views
Thursday, June 4th 2009, 5:52 AM EDT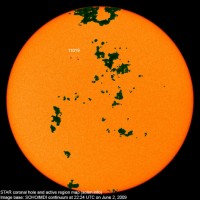 The sun has become more active in recent days with cycles 24 spots in middle latitudes. See sunspot group number 11019 for group of red spots. This is slightly diminished since yesterday. The dark green areas are coronal holes out of which the solar wind escapes at higher velocity.
Please click this link to read FULL report from IceCap.US
This story and other solar news articles are on display at our sister site
SolarCycle25.Com
Wednesday, May 27th 2009, 5:10 PM EDT
May has been frigid slowing the planting and emergence of the summer crops in Canada. Late freezes and even snows are still occurring regularly and can be expected the rest of the month.
Thursday, May 21st 2009, 7:32 AM EDT
We have noted in the last year that NOAA has often become the warmest of the 5 major data sets in their monthly globval anomalies. Thanks to Bob Tisdale, we have a better idea why that is the case. Bob occasionally cross posts on Watts Up With That and gets a mention on Climate Audit, for newbies, these three sites should be among your favorite bookmarks.
Saturday, May 2nd 2009, 3:06 PM EDT


It has returned to very near the 1979-2000 year average (NSIDC). Had NSIDC used the entire period of record as their base period (1979-2008), we would be at or above the average.

Please click the link from IceCap.Us to read FULL article
Arctic ice extent appears to have bottomed out in 2007, and has recovered the last two years as shown by this graph from the University of Illinois Cryosphere.
Wednesday, April 29th 2009, 11:38 AM EDT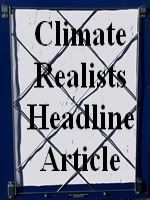 Two trains are racing down the tracks and if they get to where the government wants, the results to all Americans will be nothing short of catastrophic.
Given the current global cooling now in its 8th year, declining ocean heat content at least in its 5th year, sea level rises which have slowed or stopped, record rising Antarctic ice extent and rapidly recovering arctic ice since the 2007 cycle minimum, a sun in a deep slumber, increasing evidence that CO2 is a harmless gas that is in reality a beneficial plant fertilizer, you would think that this proposed legislation and ruling would in a sane world, have no chance of passing, but there is a huge political and NGO machine and all too compliant media and carbon crusaders like Al Gore and James Hansen and literally many billions of dollars behind making carbon evil and subsidizing unwise energy and carbon control solutions.
Please click IceCap.US source link to read FULL article by By Joseph D'Aleo
Wednesday, April 15th 2009, 9:56 AM EDT
This would be very like cycles 1 to 4 in the late 1700s and early 1800s, preceding the Dalton Minimum.
THE SUN
The sun remains in a deep slumber. The current string of spotless days is 38 days long by some accounts. Today we are 15 days into April without a sunspot and with 603 sunspotless day this cycle minimum, 92 already this year. 2009 at this rate, is likely to enter the top 10 years the last century along with 2007 (9th) and 2008 (2nd) this summer.
Wednesday, April 8th 2009, 3:00 AM EDT
by Edwin Mora
(CNSNews.com) - A scientist who tracks levels of ice and snow in the Arctic Ocean told CNSNews.com Monday that there is a "correlation" between the receding ice in the Arctic Sea and man-made global warming caused by the greenhouse effect.
But Dr. Walter Meier, a cryosphere scientist at the National Snow and Ice Data Center (NSIDC) in Boulder, Colo., admits he can't prove that the link is cause-and-effect.
"The thing that's very clear is that the sea ice changes that we are seeing go hand in hand with the warming temperature that we've seen, particularly in the Arctic and around the globe," Meier told CNSNews.com.
Friday, March 13th 2009, 9:32 AM EDT
Please click source link to read FULL report
The sun continues in hibernation mode. NASA and others thought in late 2006 it had bottomed out but it has continued to slide. Since it can't go negative, it has leveled off scraping the bottom of the chart. The NASA team projections for the next cycle continue to slip further into the future and periodically adjusted down. They present two scenarios one for a more active cycle (24) with a peak at the start of 2012 and the second a weaker one peaking around the end of 2012 or start of 2013.
Tuesday, February 10th 2009, 5:16 AM EST
The
Pacific has cooled
and now favors La Ninas, which have dominated the last two winters. This has resulted in a more northern storm track (and as we reported in earlier stories (
here
and
here
and
here
), record monthly or seasonal snows)..
There are signs our weather is taking a time machine ride back to the regimes of the 1960s or even the late 1700s early 1800s. Our climate operates in cycles, which favors different regimes of weather. We have come out of a few decades that thanks to a warm Pacific resulted in a dominance of El Ninos and its typical southern storm tracks and warm, dry western North America.
Thursday, February 5th 2009, 2:10 PM EST
"Even the forecasters in the UK have noted some similarity to the 1960s and mentioned the early 1800s."