Articles Tagged "Exclusive"
Sorted by:
Date Posted
|
Views
Sunday, June 28th 2009, 6:19 AM EDT
Introduction.
The sun was dismissed by the IPCC as a contributor to the apparent warming of the Earth's climate during the period from 1975 to 2000.
It seems to be accepted that the warming that occurred in the early part of the 20th Century was more likely solar induced but it is asserted that in the late 20th Century man made influences took over and forced a rise in global temperatures that would not otherwise have happened naturally. However it is notable that the highest recorded US mainland temperatures were recorded in the 1930s and not the 1990s. That interesting fact was obscured until recently when the data was investigated and the records corrected.
Please goto our Solar News Site
SC25.Com
to read FULL EXCLUSIVE article by Stephen Wilde
Friday, June 26th 2009, 3:27 PM EDT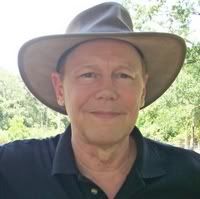 There is overwhelming evidence that the misnomer 'greenhouse gas' hypothesis has no relationship to climate change. Climate Realist has an enormous amount of technical information covering the vast array of forcing factors that would need to be considered in developing a math model for climates complex interactions. Over 31,000 scientists have had their names entered into the Congressional Record as being opposed to the false science of AGW. But we do not have the luxury of an extended scientific debate. We have leaders who are determined to deplete our resources and control our behavior.
This week the Polosi-Reid-Obama triumvirate of scientific airheads will introduce the unread 1200 page long Waxman-Markey Bill for swift Legislative and Executive enactment. It is doubtful that there is either the will or the votes to stop this greatest tax hike in history. Our freedom is under direct assault. Our congress has been bought with our own bailout money funneled thru the Wall Street traders and bankers. Our free press has become a propaganda machine for this domestic axis of evil.
Friday, June 19th 2009, 11:12 AM EDT
The basic purpose of science is to ask and attempt to answer questions. Seldom is the answer obvious or simple. The Earth's climate is the final visible result of a large number of complex nuclear, chemical, geological and astronomical forces. It is beyond the scope of an editorial or short sound bite to describe these forces and their interactions to a scientifically illiterate public.

Science is not the only subject where there is limited public knowledge. There seems to be little understanding of human history. Throughout history, the discovery of fire has been recognized as the greatest factor in the development of civilized society. To generations connected to the earth's real physical struggles, the benefit of fire is unquestioned. To those who have 'evolved' free of lives most basic demands, it is important that we remind ourselves of the necessity of combustion.

The greatest initial benefit for mankind from fire was light in the dark and warmth in the cold. This was soon followed by the cooking of food, which reduced disease transmission, improved digestibility and refined tastes. That was soon followed by fired clay pottery and sanitation of water thru boiling.
Thursday, June 18th 2009, 12:22 PM EDT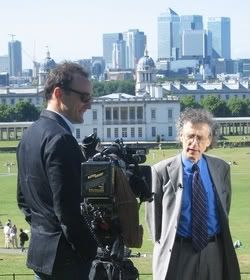 A few weeks ago I attended the "last Friday of the month" meeting at
WeatherAction.com
. In attendance was a film crew from the ABC network, we posted a
YouTube
from the meeting, with a follow up news blog concerning the predictions
WeatherAction forecast - Likely dangerous 'killer' tornados and thunderstorms in Central, North Eastern and Northern USA during the period 22 to 24 June 2009.
This is a copy email from Piers to the ABC film crew today.
****
Thanks for call great to get your message.
YES we are on for 22-24th massive thunderstorms, killer tornadoes, hail etc and the massive hail events in USA on 17th are part of the build-up - and confirmation so far of general trends & developments. There are some circumspect ('uncertain predictability') computer indications today of major thunderstorms in the 5 days starting 20th.
Monday, June 15th 2009, 4:51 AM EDT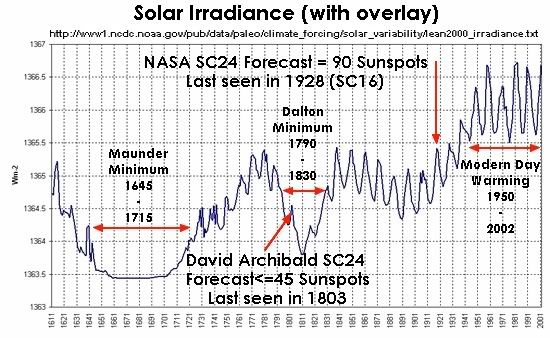 Goto
SC25.Com
to read our David Archibald Exclusive.
Friday, June 12th 2009, 1:44 PM EDT
Changing global temperatures induce air circulation changes as the air seeks to restore the sea surface/surface air temperature equilibrium and at the same time resolve ocean induced variations in the sun to sea / air to space equilibrium.
The circulation changes alter all the processes involved in the rate of energy transfer from surface to space. In so far as the air circulation fails for a time to maintain temperature stability then radiation from surface to space will also change but in due course stabilty is always restored between the four said parameters (sea surface / surface air / sun to sea / air to space).
Only huge catastrophic changes capable of altering the temperature of the whole body of the oceans can set a new global equilibrium in the short term (less than millennia). The sun can also do it gradually but it takes centuries e.g. from Roman Warm Period to Mediaeval Warm Period to Little Ice Age to now. The solar effect is heavily modulated over time by ocean cycles. A change in the composition of the air alone cannot do it.
Monday, June 8th 2009, 12:22 PM EDT
The insanity has to stop at some point. Consider for a moment that I'm entirely right on this Vitamin C(O2) issue (which, of course, is basically so; and I strongly suspect the Earth-core reactor theory is correct too, but maybe not), look what we're insanely doing – or not doing. If President Obama said to the oil companies, "I want a five year plan that results in new domestic oil production that's 150% of current imports. And we, federal, state and local governments will step out of the way".

Guess what? We'd be net oil exporters 5 years from now. Admittedly this would be radical and highly disruptive to world oil markets and so some other less aggressive plan might be best but give it a thought. Instead of $700B/year going to a foreign "black hole" we could have $3.5T incrementally rolling through our economy year after year for ever more. And another $350B from oil exports accumulating, say, against the national debt.

Now that's not very realistic for many reasons but consider the possibilities of what COULD be happening to revive our economy just now and super-charge it going forward. Separately, if he said to the coal/utility folks to do the same on, say, a 10-15 year plan, they could do it too (assuming transportation could go / would go largely electric in 10-15 years and realize that within this time horizon they'd be converting coal to gas and oil also). Separately, if he said to the nuclear folks do it on a twenty year plan, they'd do it too.
Sunday, June 7th 2009, 2:21 PM EDT
This week the government-media complex presented its greatest Orwellian effort so far in public mind control on the climate issue. The ABC two-hour science fiction horror story, EARTH 2100, was a melodramatic, hyperbolic example of mental water boarding. The story line provides a century of systemic human caused events building to the final crescendo of total Apocalypse. All the result of not supporting the Waxman-Markey Bill, also know as the 'Cap and Trade Act' by today's ignorant masses.

As with all fiction, the writer controls the scenes, the characters and the plot line for the benefit of the audience. The villain in this docudrama is carbon dioxide, capable of planetary destruction with just a few parts per million change in the atmosphere. There is a rapidly building consensus among the public and the scientifically community which is rejecting this sophomoric explanation of climate change.

The government-media complex position on this issue is very similar to that of a boisterous parent at a junior high band concert. Unable to hear anything but their own third row violinist, they loudly demand consensus on the pivotal role of their player. Others may believe that more credit goes to the orchestra director and the soloists.
Friday, June 5th 2009, 7:27 PM EDT
Have you read about the grass-roots polls to ban dihydrogen monoxide (youtube search it for video - it's hilarious). It's a substance used in Enhanced Interrogation Techniques. People are just afraid of anything they do not understand. It's just that simple. And people simply don't understand CO2. It's a vital component to the entire biosphere of the planet without which Earth's entire life-cycle would collapse. But we are coached to think it's a kind of poison.

I've got a good idea. For those of us who have a grip on common-sense, let's think of CO2 as really being C(O2). Then let's always refer to it as Vitamin C(O2); pronounced Vitamin C..(O2), with a little delay. That should help fix the perception. And the irony is that this would be an entirely fair characterization of what the molecule really is. After all, in commercial greenhouses (the real ones, not the fabled one that surrounds the entire Earth) the owner/operators regularly spike the local internal greenhouse atmosphere with Vitamin C(O2) in order to stimulate growth (to ~1000ppm or so). Not because of lore-or-myth but rather because it really does stimulate growth and they directly profit from it. The agricultural research community has done a great deal of study that supports the assertion that a fair portion of the rising global agricultural yield (maybe 15% or more) is directly attributable to the currently, and almost entirely naturally (99.5%), elevated level of atmospheric Vitamin C(O2).

Please download PDF file to read FULL essay from Ronald D. Voisin
Tuesday, June 2nd 2009, 4:45 AM EDT
"Follow the money" was deep throats advice to the investigators of the Watergate cover up. In the investigation of the Earth's weather we must 'follow the energy' and that may lead to an unexpected result. For those of us who have had classical scientific training and situational awareness of a broad range of current data, the AGW hypothesis is an easily dismissed hoax.

The reader should make an objective review the previously posted de-bunking articles on the numerous scientific errors in the man made climate change debate. Our weather system is only the final expression of universal energy transfers. What happens on the thin membrane of the surface of our planet is like smoke is to fire. The smoke can tell you things about the fire but does not control the behavior of the fire. Political mandates to control a tiny portion of this smoke are therefore meaningless.

The energy that controls our weather comes from two nuclear sources, the Earth's internal fission and the fusion of the Sun. The fission of an atom of Uranium-238 in the Earth's mantle is just the first in a series of fission 'decay chain' reactions. Wikipedia lists fourteen decay reactions that can come from this single atom decay. The half-life of these fission products range from 1.2 minutes to 4.5 billion years. This means that a lot of these intermediate, called 'daughter atoms' also break down quickly which contributes heat and high velocity particles which trigger fission reactions in adjoining Uranium atoms.