Articles Tagged "Exclusive"
Sorted by:
Date Posted
|
Views
Monday, June 1st 2009, 6:10 PM EDT
Dear All
Attached is a link to the May 29 Press conference at Delta House London at 1pm, giving
WeatherActions.com
long range and extreme world events, for June 2009 and later.
Updated below with extra information from WeatherAction.Com
Monday, June 1st 2009, 4:38 AM EDT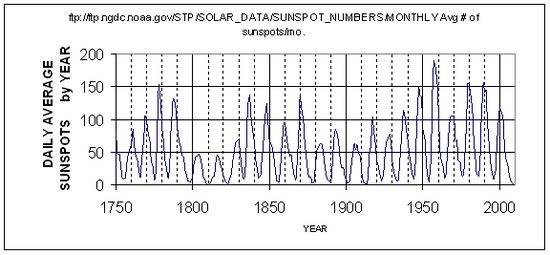 The following description of sunspots was selectively extracted from Wikipedia: "A sunspot is a region on the Sun's surface (photosphere) that is marked by intense magnetic activity, which inhibits convection, forming areas of reduced surface temperature. They can be visible from Earth without the aid of a telescope.
Saturday, May 30th 2009, 7:05 PM EDT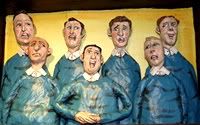 The Green House Gas Gang began in 1896 when Svante Arrhenius of Sweden discovered heat storage increases with increased carbon dioxide levels. This father of the gang was a child prodigy, Nobel Committee member, Nobel Laureate and founding member of the Eugenics movement. In 1900 he became involved in the creation of the Nobel Prize, in 1901 he was a member of the Nobel Committee and in 1903 he helped give himself a Nobel Prize for Chemistry.
He served on the Noble Committee until 1927 where he exerted enormous influence on the selection of all prize winners. In 1922 he helped father the State Institute for Racial Biology, which was to have been a Nobel Institute. The principles for this had been in discussion by the literati for decades and were incorporated in the US Progressive Movement of the 1900's and fully implemented by the Nazi eugenics programs.
Carbon dioxide was the first member of this gang. Padrone Svante calculated that if the atmospheric level of this gas were doubled it would raise earth's temperature by six degrees Centigrade. By 1900 he was challenged by his rival, Knut Angstrom and fought valiantly to uphold his claim. By 1906 he was forced to reduce his original estimate by 75% under laboratory conditions. What happens in a test tube is not always an accurate reflection of reactions in the wide range of environmental conditions. Atmospheric CO2 can be absorbed thru chemical actions or broken apart by nuclear bombardment.
Friday, May 29th 2009, 4:55 PM EDT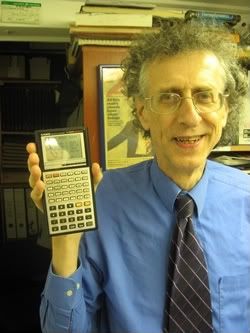 In an "Exclusive" interview from the last Friday of the month meeting at WeatherAction HQ in London on the 29th May, we wish to pass on the following news story to all Climate Realists.
After nearly 15 years of use, Piers Corbyn, director and Astrophysicist of
Weather Action.com
the leading long range weather forecasting service, said that he has at long last decided to upgrade his trusty scientific "Casio" calculator to coincide with the recent
Met Office announcement that they will spend £34 million on a new Super Computer
. This announcement was just a small part of an interview that will be aired by the ABC network soon.
The cost of the upgrade is likely to hit the £50 mark but Piers Corbyn said he felt the trusty calculator had done enough work and that it needed to be replaced with a modern day version that had some extra function keys. Although the cost will be a lot less then the Met Office new super computer, Piers is very confident that his investment will be money well spent, but not so sure the Met Office can say the same.
Tuesday, May 26th 2009, 4:25 AM EDT
For billions of years the Earth has experienced climate change with no human assistance. Now with our recent ability to accurately measure change we are being told that our very existence is the cause of this change. Modern society is possible only because of applied science, which is based on Laws of Physics and known properties of materials. To be valid any hypothesis must conform to this science. Reality dictates the rules.

Nuclear energy comes in two forms. Heavy elements with large atoms release large amounts of energy when broken into smaller atoms, the process of fission. Forcing smaller atoms together releases fusion energy, which the sun does constantly but which man has done so far only in Hydrogen bombs. Chemical energy can be stored in large molecules with many atoms and released thru combustion or natural decay processes.

We have the good fortune to live on a planet with the right mix of sunlight, atmosphere, liquid water and diverse mix of elements necessary for our life cycle to exist. Microscopic life forms do exist which do not have the same requirements. However, all higher, multi-celled life forms depend on the photosynthetic conversion of solar energy into chemically stored hydrocarbons. These hydrocarbons range from simple sugars to starches to cellulose. It is this conversion of atmospheric carbon dioxide, water, earth elements and sunlight that makes our lives possible. All animals exist only because there is a plant based food source for us to add our energy to in producing our proteins.
Saturday, May 16th 2009, 4:16 PM EDT
For full forecast see WeatherAction World long range Extremes selected Forecast Events MAY 09 via link:
http://www.weatheraction.com/displayarticle.asp?a=30&c=1
Piers Corbyn, astrophysicist and long range weather & climate forecaster said "North Central USA is unseasonably cold now, with frost warnings confirming our forecast".
"We specified: This May will see some unusual strong High pressure blocking in both USA & Australia which will cause some notable cold spells and forecasted the main dates of these events in May".
Please download PDF file to read FULL report from Piers Corbyn
Friday, May 15th 2009, 1:22 AM EDT
I look at the Earth with the oceans and air as a single entity obstructing the flow of energy from the sun.
Short wave solar energy hits the Earth, some gets absorbed by Earth, oceans and air and is then radiated out as long wave energy.
In the course of that process heat energy is released around the planet and radiated out with the rest of the electromagnetic energy received from the sun. The shift from short wave to long wave is just like the reduction in voltage as a current passes through a resistor thereby generating heat.
That entire process, taken as a whole, sets the so called equilibrium temperature of the planet.
Friday, May 15th 2009, 1:10 AM EDT
The call for accountability is extending - Politicians must now answer for baseless 'Climate Change' claims
The false, immoral baseless expenses claims by a number of UK MPs is as reprehensible as the false and baseless claims made by the political classes in the UK, Europe, USA & Australasia about global warming and climate change - which they use to justify ruinous 'Climate Change', energy and 'environment' policies and feed the increasing number of snouts in the 'green' trough which is also funded by taxpayers.  
In the astounding case of Andrew MacKay MP Senior Parliamentary & Political Advisor to Tory leader David Cameron since 2005 it appears that for years he was claiming for a second home while he (& his wife also an MP) had no first home to justify his claim for a second home. This curiously parallels claims that continuing Global Warming is causing current Climate Change when in fact there has been no Global Warming, but world cooling for at least the last 7 years, to justify that claim.
Please download PDF file to read FULL report
Thursday, May 14th 2009, 12:46 PM EDT
by Joseph A Olson, author is a Registered Engineer involved in construction, who has a lifelong commitment to functional mass transit and to vast improvements in auto efficiency and safety, and is also opposed to political manipulation thru FALSE SCIENCE.

"The vast difference between the maximum heat and minimum ice age weather cycles on the surface of the earth cannot be accounted for by any solar or atmospheric variables. In fact, there is another force that renders even short-term climate forecasts inaccurate. That force is the enormous GEO-NUCLEAR, heat producing fission reactions of the heavy elements that form the earth's core.

Mankind can neither predict nor control this force and is just as powerless to control the volcanoes, earthquakes and ice ages that are the results of variations in this geo-nuclear force. The 11,000 degree F temperature at the earth's core is not caused by gravity, by solar radiation or by atmospheric insulation. Legislative efforts to modify weather with miniscule changes of parts per million of carbon dioxide, a benign, life giving molecule, will soon be recognized as the most naïve misinterpretation of earth science since the world was flat."
Wednesday, May 13th 2009, 5:16 PM EDT
Combating Cosmic-Ray bashing is one thing but WE have to get it right!
A Note from Piers Corbyn, astrophysicist -
WWW.WeatherAction.Com
In his interesting article 'Attempt To Discredit Cosmic Ray-Climate Link Using Computer Model' Doug Hoffman (
http://climaterealists.com/?id=3409
&
Attempt To Discredit Cosmic Ray-Climate Link Using Computer Model
) correctly criticizes the article Appearing in Science under the title, "Study Challenges Cosmic Ray–Climate Link," as nothing more than a computer program study rather than proper Physics.
However we must understand that the reason why the Global Warmers put so much effort into both advertising and attacking the Cosmic Ray theory is because, despite its honorable origins and the excellence of Svensmark & Calder, it CAN be easily refuted as a climate driver of any significance and with their twisted logic Global Warmers then claim "Oh Climate Change isn't Cosmic Rays therefore its CO2!".