Articles Tagged "Exclusive"
Sorted by:
Date Posted
|
Views
Friday, April 24th 2009, 3:26 AM EDT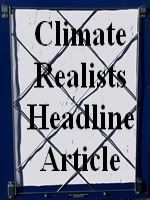 "Official data shows the world passed its peak temperatures 10 years ago, but sadly the BBC and 'Global Warming apologists' are now attempting to cover up the facts" said Piers Corbyn, 'climate realist', astrophysicist & long range weather & climate forecaster, 24 April, in response to the BBC's 'Quiet Sun baffling astronomers' report (
'Quiet Sun' baffling astronomers
).
"In timely backing of the UK Government's £1billion Carbon budget and similar moves in the USA, the BBC and Prof Lockwood of Southampton University distort the facts in an attempt to cover-up the proven centrality of the sun in controlling world temperatures", said Piers.
Please download PDF file to read FULL report.
Thursday, April 23rd 2009, 3:07 AM EDT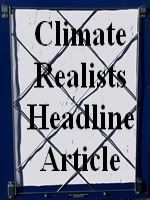 The £1billion 'carbon budget' announced by Alistair Darling 22 April is nonsense to create a bubble of false value based on false science and will fail" said Piers Corbyn, 'Climate Realist' and astrophysicist of WeatherAction.com long range weather and Climate forecasters.
"Just as UK and USA banks led the world in creating the bubble of false financial and property value; UK and USA Governments are intent on leading the creation of a another bubble of false value - the 'carbon bubble'. It will not aid economic recovery but do the opposite. Government borrowing to create a ladder to help us get out of the economic hole of the world economy - while other parties want to dig deeper - is fine but climbing a ladder is not helped by a carbon capture factory bolted onto your head.
Please download PDF file to read FULL report
Wednesday, April 22nd 2009, 6:56 AM EDT


A goose may be cooked but not the one you would expect so please bear with me while I explain.

The 'Oven' analogy
If the above title drew your attention then that will be because you expect me to confirm the worst fears about humanity's goose having been cooked by anthropogenic climate change.
Saturday, April 11th 2009, 6:07 PM EDT
- "Further intense events to come in next few days which will further surprise standard meteorology forecasts"

The massive destructive storms striking parts of the USA & Canada on 11th April confirm Weather Action's serious weather warning issued 27 March for parts of USA & Canada to be hit by 'massive disruptive weather events' 11-15 April.

"The internationally reported intense tornado destruction in Tennessee, firestorms in Oklahoma and floods in Dakotas on 10/11 April are all a consequence of the extremely active systems driven by special predictable sun-earth magnetic effects which we warned of for around this period at our 27 March Press conference. We expect over the next few days that extreme weather both sides of the USA /Canada border will further confirm the forecast in more detail. The events will come in more than one wave, precise locations uncertain", said Piers Corbyn astrophysicist of WeatherAction long range weather and climate forecasters.

Please download PDF file to read FULL report from Piers Corbyn
Saturday, April 11th 2009, 2:34 AM EDT
In the following article from ScienceDaily
Climate Change Leads To Major Decrease In Carbon Dioxide Storage
it was sujested that:
The North Atlantic Ocean is one of the Earth's tools to offset natural carbon dioxide emissions. and In fact, the 'carbon sink' in the North Atlantic is the primary gate for carbon dioxide (CO2) entering the global ocean and stores it for about 1500 years. The oceans have removed nearly 30 per cent of anthropogenic (man-made) emissions over the last 250 years. However, several recent studies show a dramatic decline in the North Atlantic Ocean's carbon sink.
This is what Richard Courtney had to say:
Firstly, the title could be misleading to those who do not read the text. The title says, 'Climate Change Leads to Major Decrease in CO2 Storage'. But
the article reports that the climate changes and the decreased CO2 storage are natural;
n.b. not anthropogenic.
Thursday, April 9th 2009, 12:42 AM EDT
Italy earthquake deaths due to 'criminal arrogance' says scientist.

- Authorities must be called to account
- Earthquake Forecasts could become reality
- When will California get hit?
 
"The tragic Earthquake death toll in L'Aquila Italy is due to criminal arrogance of authorities who ignored  the well-founded warnings of an earthquake-scientist; and this isn't the first time that authorities and governments have ignored well-founded serious warnings based on sound science*"
Wednesday, April 1st 2009, 1:19 AM EDT
G20 Climate Challenge, Scientists say Practical steps needed:

- Protect & Defend against weather extremes - dangerous USA/Canada weather events coming;
- G20 policy a 'two-legged stool'
- Role of oil companies challenged.

"The G20 countries could make a tremendous contribution to human welfare by adopting a serious international programme of Weather EXtreme Forecastisting And Defence - WEXFAD", said Piers Corbyn astrophysicist of WeatherAction long range weather & climate forecasters on the eve of the G20 London summit.

Please download PDF file to read FULL report
Monday, March 30th 2009, 11:53 AM EDT
Piers Corbyn makes a public review of his March forecast in this video and highlights his recent success. See April Weather EXtremes Forecast And Defence for his world forecast for April.

We predict that what you will see in the USA and around the world during April will be regarded by the AGW Media as more proof of "Man" and his additional CO2. As these events unfold they will be classified as "extreme" and therefore cannot be explained in any other way, than from "Man Made Climate Change". We need as many of you to take note of this forecast and report back the results to WeatherAction.Com. We also need as many of you that will be in those locations to inform other people that they could be in danger, and thats with advance warning.

This recording was made from the WeatherAction meeting on the 27th March, and note it's from someone who uses a slide rule and not a super-computer, we think you should all take a look at this. What will follow in the next WeatherAction meeting will concern many who believe in "Man Made Climate Change"
Sunday, March 29th 2009, 2:35 AM EDT
Weather Extremes Forecast And Defence - WEXFAD - advanced by WeatherAction.Com

- Practical defence against Weather & Climate extremes needed
- WORLD extreme events forecasts issued for April

"Global Warming is over and it never was caused by man or CO2. Nevertheless extreme weather and Climate events are dangerous so the task of weather & climate scientists and politicians must be Weather EXtremes Forecasts And Defence – WEXFAD.

"The extreme weather event forecasts we produce - based on solar activity - are necessary to assist Governments and Emergency & Relief agencies prepare for and defend against the weather and climate dangerous events and disasters, which they remind us are so important " he said.

Please download the PDF file to read the FULL report
Thursday, March 26th 2009, 5:07 AM EDT
Special 'Sharp Solar Effect' weather forecasts 'excellently' confirmed in new trials

- "Uncanny" success by WeatherAction declares observer

- Sudden changes in weather over Atlantic & Britain catch standard meteorology by surprise.

- THREE simultaneous tropical storms in South Indian Ocean / Pacific confirm 'something special going on' (see map below of situation 24 March).

Please download PDF file to read FULL report.