Articles Tagged "Via Email"
Sorted by:
Date Posted
|
Views
Tuesday, March 3rd 2009, 12:49 PM EST
In response to the article from prwatch.org
Profiling the Global Warming Skeptics
, James M. Taylor, Senior Fellow, Environment Policy of the Heartland Institute had the following to say.
Friends,
Your attempt to convince people that humans are causing a global warming crisis would be more credible if you were more honest in your depictions.
You claim, "The list of speakers and the free-market think tanks co-sponsoring the conference provides a reasonably comprehensive guide to the most active of the remaining global warming skeptics." This attempt to mislead your readers about the large number of scientists who are skeptical of a human-induced global warming crisis makes one wonder about your commitment to truth and honesty.
Tuesday, February 24th 2009, 4:26 AM EST
In the recent CO2sceptics News Blog
Another source debunks the global-warming scare
by Tom Kerlin, reference was made to the Washington Post article
Dark Green Doomsayerson by George F Will
.
The Washington Post has been requested to change the original work to include some additional information concerning the sea/ice level reference.
Hi Everyone
I have set up a link on my Green Hell blog to defend Will against the green onslaught.
Defend George Will and the right to question climate alarmism
Comments welcome, but e-mails to the Washington Post ombudsman are what's needed.
Thanks,
Steve Milloy
Monday, February 23rd 2009, 1:25 PM EST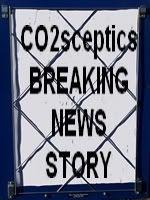 By James M. Taylor
Calls are mounting for President Barack Obama to fire James Hansen, the controversial figure in charge of climate studies at the National Aeronautics and Space Administration (NASA).
Hansen has a record of allegedly doctoring temperature data to hype his argument that global warming is a crisis. The new calls for his resignation or termination come following his appearance in a
video calling for civil disobedience at a protest at a power plant in Washington, DC
.
"It is plainly improper for someone on the U.S. government payroll to advocate civil disobedience on behalf of a non-government advocacy group," said Dan Miller, executive vice president of The Heartland Institute and former chairman of the Illinois Commerce Commission. "As long as a public official is on the public payroll, his first loyalty is to his constituency, not to some outside pressure group calling on people to break the law," Miller said.
Updated: Join the following FaceBook group to register your protest against James Hansen - Fire James Hansen - NASA Climate Chief
Thursday, February 19th 2009, 1:29 AM EST
Dear fellow Australians
As President of the world`s first up front political party representing climate sceptics I am asking like minded friends and contacts across Australia to do two things to help us.
1) Pass this email onto your contacts and
2) Check our web site
www.climatesceptics.com.au
and consider becoming a member.
We want to get the news of our existance to every climate sceptic in the country and we need your help to do that.
We are under no illusions about the difficulties of politics with many of our team experienced in public and past political roles.
Tuesday, February 17th 2009, 3:55 PM EST
Dear all,
MEP Roger Helmer was so kind to have an English translation made of my article, 'What will the future bring: warming or cooling?, which has earlier been published in Dutch.
See:
What will the future bring: warming or cooling?
Best,
Hans H.J. Labohm
Thursday, February 12th 2009, 5:43 PM EST
'If the choice is wash your clothes in the ditch or put in electricity that's generated by a coal-fired power plant so that you can actually buy a washing machine, most people are going to build the coal-fired power plant'

WASHINGTON – Energy and Commerce Committee Ranking Member Joe Barton, R-Texas, today made the following statement during the Energy and Environment Subcommittee hearing entitled, "The Climate Challenge: National Security Threats and Economic Opportunities":

"I am skeptical that mankind is causing global warming. I do agree that the climate is changing – that's self-evident. But because I'm a registered professional engineer, I have a problem with finding that mankind is the cause after I look at all the evidence of the past cycles to see what's different from this one. The expert IPCC models, unless they've miraculously improved them in the last four months, don't even do a very good job of predicting the past. Half the time they get the degree of change and direction wrong even though they know all the factors exactly. Maybe that's changed some in the last six months and maybe some of these witnesses can educate me on that.

Please download the PDF file to read the Report in FULL.
Thursday, February 12th 2009, 7:08 AM EST
Dear Mr Rogala,

I am very glad to hear that NBC4 viewers have the opportunity to hear the truth about "man-made" climate change from Jym Ganahl – it is high time for this nonsensical notion to be dismissed for the fraud that it is.

By and large, I believe that the Public is becoming increasingly distrustful of the AGW notion – because their common sense and the weather tell them a story that does not conform to supposed AGW consequences.

With good reason – IPCC managers systematically distorted studies to lead to a "cause and effect" relationship between human activity and climate that wasn't there.

Tuesday, February 10th 2009, 5:56 AM EST
Ian Plimer is Professor of Mining Geology at The University of Adelaide and Emeritus Professor of Earth Sciences at The University of Melbourne where he was Professor and Head (1991-2005). He was previously Professor and Head of Geology at The University of Newcastle (1985-1991). His previous book, A Short History of Planet Earth, won the Eureka Prize.

The book is called Heaven and Earth: Climate change - the real science. It challenges every single assertion made by the rabid environmentalists about climate change and shows that there is a huge body of scientific information contrary to what we read and hear in the public arena.

Tuesday, February 10th 2009, 5:44 AM EST
Attached is new study. Please do not reproduce more than the intro and conclusion. In
JOURNAL OF GEOPHYSICAL RESEARCH
, VOL. 113, D22106, doi:10.1029/2008JD010036, 2008
Multi-Decadal Variability of Atlantic Hurricane Activity: 1851-2007
The Abstract states:
Monday, February 9th 2009, 7:14 PM EST
A statement by Viv Forbes, Chairman of the Carbon Sense Coalition.

The Carbon Sense Coalition today accused coal companies, power companies and governments of gross negligence for wasting resources from shareholders, electricity consumers and taxpayers on quixotic dreams to capture and bury carbon dioxide from power stations.

The Chairman of the Carbon Sense Coalition, Mr Viv Forbes, said that there were five main objections to Carbon Capture and Storage (CCS):