"We" do NOT measure CO2.
This is a plot that will be familiar to almost all people, it is the Mauna Loa record of CO2 levels,
as recorded on a volcanic island in the Pacific (very near to the world's most active and another very active volcanoe).
The constant, unerring rise due to (purportedly) man's activities and our emitted CO2.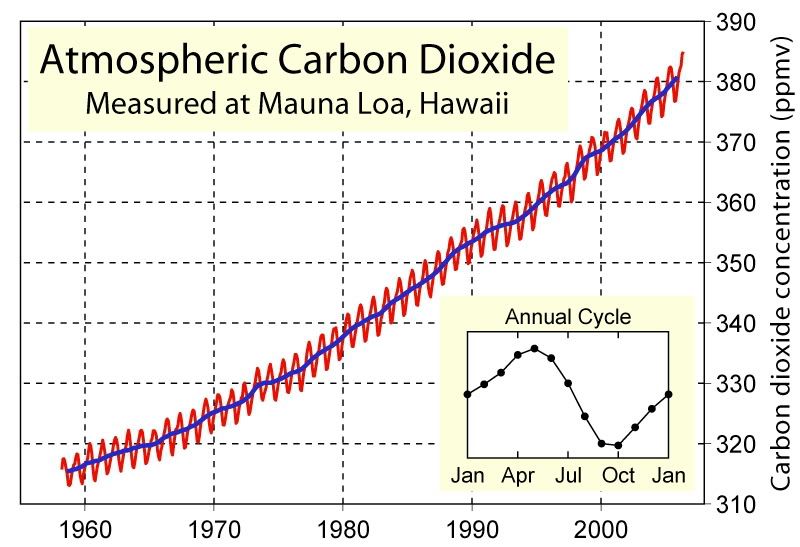 So, instantly it is fairly reasonable to assume that the Mauna Loa Observatory (MLO) measures the CO2 level in the atmosphere.
Here is a link to a page describing, in some detail, how and what the MLO does.
http://esrl.noaa.gov/gmd/ccgg/trends/
Trends in Atmospheric Carbon Dioxide - Mauna Loa


@ US Department of Commerce,
National Oceanic and Atmospheric Administration.
Here is a page linked from the above page, describing in more detail the method used.
http://esrl.noaa.gov/gmd/ccgg/about/co2 ... ments.html
How we measure background CO2 levels on Mauna Loa.
Pieter Tans and Kirk Thoning, NOAA Earth System Researh Laboratory,
Boulder, Colorado
September, 2008
The Scripps Institution of Oceanography has something very similar as well.
http://cdiac.ornl.gov/trends/co2/sio-mlo.html
Atmospheric Carbon Dioxide Record from Mauna Loa
R.F. Keeling, S.C. Piper, A.F. Bollenbacher and J.S. Walker
Carbon Dioxide Research Group
Scripps Institution of Oceanography
University of California
La Jolla, California 92093-0444, U.S.A.
Here is a link to the Scripps Institution's monthly mean record for MLO from 1958 to 2007
http://cdiac.ornl.gov/ftp/trends/co2/maunaloa.co2
Atmospheric CO2 values (ppmv) derived from in situ air
samples collected at Mauna Loa, Hawaii, USA
Carbon Dioxide Research Group
Scripps Institution of Oceanography (SIO)
I have plotted this monthly data on an excel sheet, and it shows a level of uniformity that is surprising.
There seems to be a very constant rate of change in just about every way, from month to month, year to year, and season to season.
Virtually whichever way these monthly means are plotted you get virtually straight lines.
Below I plotted the month to month rate of change between each month for each year from 1960 to 2007.
A single year due to seasonal influences forms an S shape, this plot has all 47 years plotted.
Forty seven years, in that time there are virtually no outliers to within 1 part per million of CO2.
Furthermore the most any month can seem to vary + or – is less than 0.75 of a part per million.
I find it hard to comprehend nature and man's influence combined is, or could be that regular a rate of change.
This leaves one at a cross roads, do you accept the given monthly means "as is" or
do you delve a little deeper to check the data and the figures.
Well, I'll try to save you a bit of time here, if you look further you can find daily averages, and
maybe also hourly averages for MLO by NOAA, and possibly SIO as well.
Sometimes these figures can be referred to as "raw hourly averages", but being averages
they must have been processed, so they by their name can not be raw.
This is important, because only the raw data has not been altered according to
various assumptions and omissions used in processing the raw data.
Processing data, assumptions, and omissions are all perfectly normal procedure, as long as,
a) the raw data is still available, and
b) the assumptions / omissions are clearly stated and known.
This is so that other people at a later date can go back through the data to check
the data, the assumptions, the omissions,
and any other taken onto account factors are as they are purported to be.
Measuring a trace gas to such a high level of accuracy, that so much is built upon in recent times,
that has such political importance, and could be said to be ruling our lives in many respects,
you would of thought the MLO is both open and verifiable.
Asking further questions about raw data usually leads to, well, less than polite, or
just plainly (and seemingly deliberately) confusing answers.
Getting past the "raw hourly averages" is nigh on impossible, but sometimes you can.
I have seen two days of what are called "voltage" figures taken at 10 second intervals at MLO.
From a supposedly continuous 50 year record - that is not very open.
So, this raises a question,
1) What is the voltage figure produced by the Infra Red Gas Analysis (IRGA) method a measure of ?
http://esrl.noaa.gov/gmd/ccgg/about/co2 ... ments.html
Excerpt,
"

Infrared absorption.


How does the CO2 analyzer work? Air is slowly pumped through a small cylindrical cell with flat windows on both ends.
Infrared light is transmitted through one window, through the cell, through the second window, and is measured by
a detector that is sensitive to infrared radiation. In the atmosphere carbon dioxide absorbs infrared radiation,
contributing to warming of the earth surface. Also in the cell CO2 absorbs infrared light.
More CO2 in the cell causes more absorption, leaving less light to hit the detector.
We turn the detector signal, which is registered in volts, into a measure of the amount of
CO2 in the cell through extensive and automated (always ongoing) calibration procedures."
In other words the IRGA method used measures the amount of absorbed infra red radiation by the sample.
ie, the overall effect of the greenhouse gases (GHGs) present in the sample.
Later in the description it is explained that water vapour has been removed from the sample before it is tested
by a cold trap. This is because water vapour is THE most important greenhouse gas, so
to measure CO2 levels H2O is first removed, by cooling or rather by freezing.
The then dry air is passed into the test chamber, from which the voltage reading is taken.
At this point it might be useful to look at a plot of the IR spectrums of several well known GHGs.
I have put the below plot together from spectral plots as published in a climate science journal.
From these I put together this "plot".
From this plot the strong and wide spectral absorbtion by H2O is clearly visible.
So how does the "plot" look with water vapour removed, as the IRGA method does.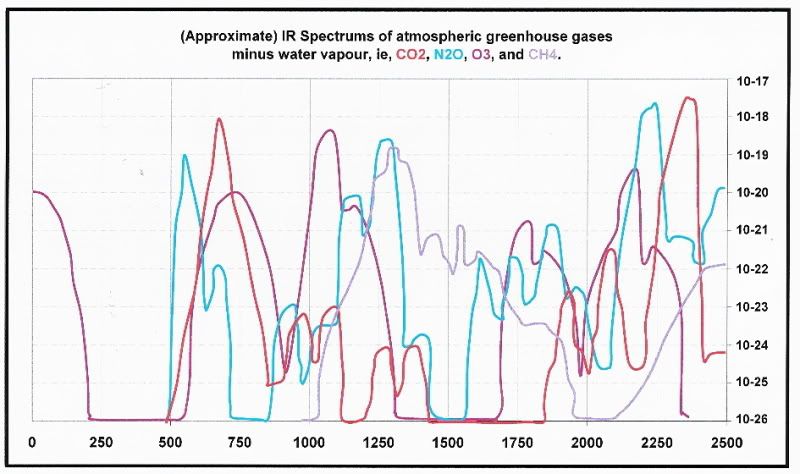 Immediately a problem is evident, depending upon amounts present "other" GHGs could be (ARE)
contributing to the measured IR absorbtion of the measured sample.
So, the IRGA method DOES NOT measure CO2.
This raises a second question,
2) Of the amount of IR absorbtion measured by the IRGA method, how much is due to CO2 ?
Obviously this question depends upon spectral response and amount of each GHG gas present in the (dry) sample,
and applies to Ozone, Methane, and Nitrous oxide.
Without knowing (or measuring) any or all of the actual amounts present of the four GHGs in the sample,
how can the amount of any one of the GHGs be determined in the first place.
It would be like giving a blind man a bucket full of coloured ping pong balls and asking him
how many red ping pong balls are in the bucket.
He would not have a clue.
Being the helpful type I am I have done another plot to illustrate this point.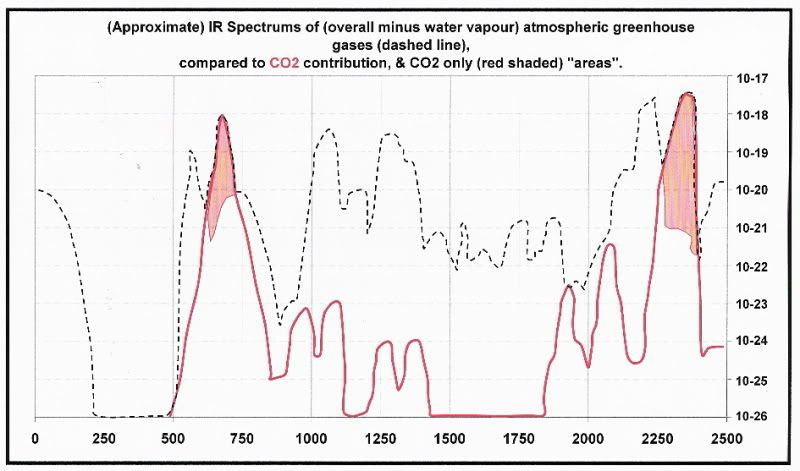 Is this why there is no released raw CO2 data for MLO.
There is no raw data, because CO2 is not directly measured.
So how is there a 50 year record of CO2 measurements from MLO ?
I would guess assumptions of the amounts of the other GHGs present in the samples are
subtracted from the voltage measured in the processing that produces the "raw hourly averages".
I hope I'm wrong, because if I am correct then there is no (directly measured) CO2 record.
It may well have been that back in the late 1950s and early 1960s that this new method was thought to be
a great improvement upon the wet chemical analysis methods then, and
still used now (but not allowed to verify MLO et al...).
If that was the case, then why was the method, "invented" by the Scripps institute made and
then quickly shipped to the middle of the Pacific ocean (MLO) whilst not allowing anyone else to verify it.
MLO and the other 19 stations (at least, it might be nearer 40 stations) in the official CO2 monitoring / measuring network
all use the same machinery and / or technique, to this day.
To the best of my knowledge the IRGA method has never been independently verified,
possibly the above plots might illustrate why.
To be continued.
This same post without cut off plots can be seen at,
http://www.globalwarmingskeptics.info/p ... ?f=5&t=585