Articles Tagged "Richard Courtney"
Friday, March 6th 2009, 1:17 PM EST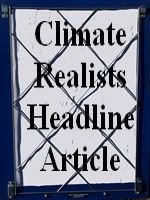 I write to report on a debate that defeated the motion "This House Believes Global Warming is a Global Crisis" during a meeting of the St Andrews University Debating Society. It is difficult to arrange a debate of anthropogenic (that is, man-made) global warming (AGW) because few proponents of AGW are willing to face such debate. They know from past experience that they always lose such debates because there is no evidence that AGW exists and much evidence that it does not.
However, on Wednesday 4 March 2009, the St Andrews University Debating Society held their debate of the motion, "This House Believes Global Warming is a Global Crisis" in the Old Parliament Building, St Andrews. The debate was organized and presided over with exemplary efficiency and professionalism by the Speaker of the Society, Ms Jessica Siegel. It was conducted with all the pomp and ceremony that could be expected of an ancient society of so ancient and prestigious a university.
Updated below by Richard Courtney
Tuesday, July 14th 2009, 5:20 AM EDT
If these guys can do it so can we....join the FaceBook group Fire James Hansen and network with people who may be able to protest in your area against Al Gore and James Hansen.....
ANYONE who denies global warming is in the pay of big oil. Remember that is what the big man, Al Gore, said in his movie 'An Inconvenient Truth'. But like so much that Mr Gore says, it just isn't true.
Updated below from Richard Courtney
Thursday, January 29th 2009, 8:55 AM EST
Dear Mr. Morano,

On the official US senate minority web site you cite a blog that accuses me of scientific fraud.

(http://epw.senate.gov/public/index.cfm?FuseAction=Minority.Blogs&ContentRecord_id=fc7db6ad-802a-23ad-43d1-2651eb2297d6)

You write:

"A critical analysis of the paper from December 21, 2008, accused the authors of the Antarctic study of making questionable data adjustments.

Updated below by Richard Courtney

Thursday, November 13th 2008, 2:53 PM EST
US dealing with security concerns from change in climate
stated the following...
Coastal military facilities are threatened by rising sea levels and more frequent major, damaging weather events such as hurricanes and Tornadoes....although Mr. Fingar declined to give details apart from the number of installations in peril, a Pentagon official told The Washington Times that the Pentagon has commissioned a network of scientists to create a model for predicting the impact of storm surges and sea-level rises on military facilities on the Gulf Coast, in the Mid-Atlantic region and in Southern California.
Dr. Richard Courtney, a UN IPCC expert reviewer and a UK-based climate and atmospheric science consultant made the following News Blog concerning this issue...
Coastal military facilities are threatened by rising sea levels, Really?
The Washinton Times article by Kelly Hearn
Thursday, March 19th 2009, 9:47 AM EDT
Dear All:
Luigi Mariani has written an excellent criticism of Al Gore's film titled "An Inconvenient Truth" (AIT). Maurizio Morabito provides his translation into English of the article at
Al Gore vs. The Aristotelian Method - or The Moral Irrationality Of Climate Scaremongering
I write to commend this enjoyable read to everybody.
Prof Luigi Mariani is oart of the Agrometeorological Research Group, Dept. of Crop Science, University of Milan, and he wrote the superb article after a public screening of Al Gore's "An Inconvenient Truth", on 23 January in Comano, Italy.
All the best
Richard
Thursday, December 17th 2009, 5:59 AM EST
ONE of the Europe's leading agricultural scientists and a member of the Intergovernmental Panel on Climate Change (IPCC) has rejected farmer scepticism and criticism that climate change is not real or not a result of human activity.

Danish-based Jorgen Olesen, from the Faculty of Rural Sciences at the University of Aarhus, says farmers who question the existence of climate change have often not bothered to read the IPCC report on climate change, and rarely took part in the review process.

Speaking to Rural Press from the Copenhagen climate change negotiations, Professor Olesen said the IPCC had the "most open review process" of literature that he'd been involved in.
Updated by Richard S. Courtney
Gabriel:
Thank you for posting this
article
. I needed a good laugh in the hustle of preparing for Christmas, and Olesen's statement gave me several belly laughs. I mention a few.
The article says:
Friday, January 30th 2009, 5:03 PM EST
From Jim Peden

The cold hard reality of the alarmists vs deniers battle is, one side or the other is dead wrong. I "came out of retirement" to study the issue at the request of others, and confess at the beginning of my personal investigation, I was inclined to believe the popular notion that mankind had indeed mucked up his environment ( again ). I come from an era when science was a noble profession where we all strived to diligently uncover the truth, shared our findings with others, and would quickly change our minds on a particular theory if material evidence proved otherwise. The mantra at the time I began my personal investigation was that the science was settled, the debate was over, and the time for rapid and radical overhaul of our entire civilization was long overdue. It didn't immediately appear illogical to me at the time, because I still trusted science, and scientists in general.

Updated Below from Vincent Gray

Thursday, April 9th 2009, 7:12 AM EDT
The following message has been sent to members of the FaceBook group
Fire James Hansen - NASA Climate Chief.
. Please feel free to join and take part
Dear All:
George Monbiot (a global warming extremist) has launched an assault on Christopher Booker and is offering a non-prize for suggestions on the most ridiculous 'on-line' publications on climate change.
His request is at this link at The Guardian
Pure rubbish: Christopher Booker prize
It says;
"The award will go to whoever in my opinion and assisted by climate scientists and specialists manages, in the course of 2009, to cram as many misrepresentations, distortions and falsehoods into a single article, statement, lecture, film or interview about climate change. This work must be available online. You score a point for every mistake, though one point will be deducted for every retraction or correction published by the author or the original outlet within a reasonable length of time."
Monday, December 15th 2008, 4:24 AM EST
by Noel Sheppard
Despite the nation experiencing its tenth straight year of temperatures cooler than 1998's peak, and much of New England experiencing its worst ice storm in decades, the Associated Press on Sunday published one of the most hysterical articles concerning global warming I've ever seen.
Obama left with little time to curb global warming
In writer Seth Borenstein's view, climate change is "a ticking time bomb that President-elect Barack Obama can't avoid.".."Global warming is accelerating. Time is close to running out, and Obama knows it."
Updated below
Wednesday, November 25th 2009, 1:26 PM EST
We all know something is gravely wrong, but what exactly are the crimes implicated? This insight comes from Richard S. Courtney, who has been an expert witness for the UK Parliament, and House of Lords, the IPCC and was one of 15 scientists invited to speak for the US congress in 2000.
The following is quoted by Richard Courtney:-
Jones, Briffa and Mann seem to have committed several criminal offences.

These include:

1. Misappropriation of public funds
They deliberately falsified data then used the results of the falsification to obtain additional research funding. This is criminal fraud under English Law.

2. Deliberate attempt to prevent disclosure of information that was requested under the FOI Act
They colluded to destroy information that was the subject of an FOI request. This is a criminal offence under English Law.