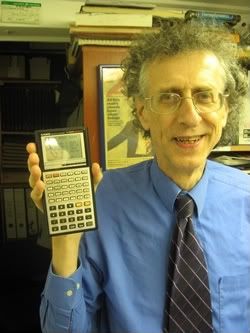 In an "Exclusive" interview from the last Friday of the month meeting at WeatherAction HQ in London on the 29th May, we wish to pass on the following news story to all Climate Realists.
After nearly 15 years of use, Piers Corbyn, director and Astrophysicist of
Weather Action.com
the leading long range weather forecasting service, said that he has at long last decided to upgrade his trusty scientific "Casio" calculator to coincide with the recent
Met Office announcement that they will spend £34 million on a new Super Computer
. This announcement was just a small part of an interview that will be aired by the ABC network soon.
The cost of the upgrade is likely to hit the £50 mark but Piers Corbyn said he felt the trusty calculator had done enough work and that it needed to be replaced with a modern day version that had some extra function keys. Although the cost will be a lot less then the Met Office new super computer, Piers is very confident that his investment will be money well spent, but not so sure the Met Office can say the same.