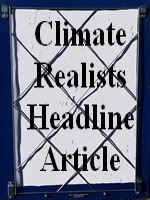 NOAA scientists agree the risks are high, but say Hansen overstates what science can really say for sure
Speaking to a packed auditorium at the University of Colorado's World Affairs Conference on Thursday, NASA climatologist James Hansen found a friendly audience for his argument that we face a planetary emergency thanks to global warming.
Despite the fact that the temperature rise has so far been relatively modest, "we do have a crisis," he said.
With his characteristic under-stated manner, Hansen made a compelling case. But after speaking with two NOAA scientists today, I think Hansen put himself in a familiar position: out on a scientific limb. And after sifting through my many pages of notes from two days of immersion in climate issues, I'm as convinced as ever that journalists must be exceedingly careful not to overstate what we know for sure and what is still up for scientific debate. Crawling out on the limb, Hansen argued that global warming has already caused the levels of water in Lake Powell and Lake Mead — the two giant reservoirs on the Colorado River than insure water supplies for tens of millions of Westerners — to fall to 50 percent of capacity. The reservoirs "probably will not be full again unless we decrease CO2 in the atmosphere," he asserted.
Hansen is arguing that simply reducing our emissions and stabilizing CO2 at about 450 parts per million, as many scientists argue is necessary, is not nearly good enough. We must reduce the concentration from today's 387 ppm to below 35o ppm.
"We have already passed into the dangerous zone," Hansen said. If we don't reduce CO2 in the atmosphere, "we would be sending the planet toward an ice free state. We would have a chaotic journey to get there, but we would be creating a very different planet, and chaos for our children." Hansen's argument (see a paper on the subject here) is based on paleoclimate data which show that the last time atmospheric CO2 concentrations were this high, the Earth was ice free, and sea level was far higher than it is today.
"I agree with the sense of urgency," said Peter Tans, a carbon cycle expert at the National Oceanic and Atmospheric Administration here in Boulder, in a meeting with our Ted Scripps Fellows in Environmental Journalism. "But I don't agree with a lot of the specifics. I don't agree with Jim Hansen's naming of 350 ppm as a tipping point. Actually we may have already gone too far, except we just don't know."
A key factor, Tans said, is timing. "If it takes a million years for the ice caps to disappear, no problem. The issue is how fast? Nobody can give that answer."
Martin Hoerling, a NOAA meteorologist who is working on ways to better determine the links between climate change and regional impacts, such as drought in the West, pointed out that the paleoclimate data Hansen bases his assertions on are coarse. They do not record year-to-year events, just big changes that took place over very long time periods. So that data give no indication just how long it takes to de-glaciate Antarctica and Greenland.
Hoerling also took issue with Hansen's assertions about lakes Powell and Mead. While it is true that "the West has had the most radical change in temperature in the U.S.," there is no evidence yet that this is a cause of increasing drought, he said.
Flows in the Colorado River have been averaging about 12 million acre feet each year, yet we are consuming 14 million acre feet. "Where are we getting the extra from? Well, we're tapping into our 401K plan," he said. That would be the two giant reservoirs, and that's why their water levels have been declining.
"Why is there less flow in the river?" Hoerling said. "Low precipitation — not every year, but in many recent years, the snow pack has been lower." And here's his almost counter-intuitive point: science shows that the reduced precipitation "is due to natural climate variability . . . We see little indication that the warming trend is affecting the precipitation."
In my conversation with Tans and Hoerling today, I saw a tension between what they believe and what they think they can demonstrate scientifically.
"I like to frame the issue differently," Tans said. "Sure, we canot predict what the climate is going to look like in a couple of dcades. There are feedbacks in the system we don't understand. In fact, we don't even know all the feedbacks . . . To pick all this apart is extremely difficult — until things really happen. So I'm pessimistic."
There is, Tans said, "a finite risk of catastrophic climate change. Maybe it is 1 in 6, or maybe 1 in 20 or 1 in 3. Yet if we had a risk like that of being hit by an asteroid, we'd know what to do. But the problem here is that we are the asteroid."
Tans argues that whether or not we can pin down the degree of risk we are now facing, one thing is obvious: "We have a society based on ever increasing consumption and economic expectations. Three percent growth forever is considered ideal. But of course it's a disaster."
Hoerling says we are living like the Easter Islanders, who were faced with collapse from over consumption of resources but didn't see it coming. Like them, he says, we are living in denial.
"I think we are in that type of risk," Tans said. "But is that moving people? It moves me. But I was already convinced in 1972."
H/T Tom Nelson BlogSpot
Join the
Fire James Hansen
FaceBook group TODAY!
Source Link:
cejournal.net