If these guys can do it so can we....join the FaceBook group Fire James Hansen and network with people who may be able to protest in your area against Al Gore and James Hansen.....
ANYONE who denies global warming is in the pay of big oil. Remember that is what the big man, Al Gore, said in his movie 'An Inconvenient Truth'. But like so much that Mr Gore says, it just isn't true.
Updated below from Richard Courtney
Consider the 30-odd protesters who held placards outside the breakfast he spoke at this morning in Melbourne. The scruffy-lot, lead by a farmer Leon Ashby, were not there because someone paid them, but because they are outraged by Al Gore and what he has thrust on the world. In particular, his belief that we already have a climate crisis and that the only solution is carbon trading.
It might all sound well meaning. But it is going to be expensive. Indeed, quoting Ronald Bailey from Reason magazine, cap and trade in the US will be the largest corporate welfare program ever enacted in the history of the United States. And the corporations hope government is just as generous to them here in Australia.
Indeed if there were any in the pay of big oil at Dockland Peninsula this morning, they would have been inside applauding the big man.
Has the big end of town ever taken to holding placards? I don't think so.
A protest like the one in Melbourne this morning was about the seemingly disempowered and disenfranchised attempting to be heard. Of course history is replete with stories of such groups finding their voice and a crowd – eventually
Links and Notes
Leon Ashby heads a new political party called 'The Climate Sceptics'
www.climatesceptics.com.au
The above photograph, via Leon Ashby, shows demonstrators at Dockland Peninsula this morning.
There have been other protests in the US:
H/T IceCap.US
Updated from Richard Courtney

You say;

"ANYONE who denies global warming is in the pay of big oil. Remember that is what the big man, Al Gore, said in his movie 'An Inconvenient Truth'."

Does that include by the AGW-propaganda web site which calls itself RealClimate.org?

The Earth has now been experiencing global cooling for such a long time that the cooling is even admitted by RealClimate. And to admit the existence of global cooling is to deny the existence of global warming.

But at

http://www.realclimate.org/index.php/archives/2009/07/warminginterrupted-much-ado-about-natural-variability/

they say at RealClimate:

Excerpt: "We hypothesize that the established pre-1998 trend is the true forced warming signal, and that the climate system effectively overshot this signal in response to the 1997/98 El Niño. This overshoot is in the process of radiatively dissipating, and the climate will return to its earlier defined, greenhouse gas-forced warming signal. If this hypothesis is correct, the era of consistent record-breaking global mean temperatures will not resume until roughly 2020."

So, even RealClimate (i.e. the Alamo of discredited so-called climate scientists) now admits the fact that the Earth is experiencing global cooling and suggests that global warming will not resume "until roughly 2020." And they are trying to provide excuses for the cooling.

In other words, these global warming propagandists have recognised that their climate change denial of the last decade is not sustainable anymore. So, they have abandoned any pretence that global warming exists at the moment, and they are presenting their excuses for why the globe is cooling together with their assertions of when global warming will resume (presumably they will claim with a vengeance).

This raises three issues (two scientific and one political).

Firstly, the claimed "overshoot" being responsible for the present lack of global warming is denied by the data.

This is Monkton's Figure 5 showing recent global temperature as a composite index of global mean surface temperature anomalies, taking the mean of two surface and two satellite datasets (and it is taken from (http://scienceandpublicpolicy.org/images/stories/papers/monckton/temperature_co2_change_scientific_briefing.pdf).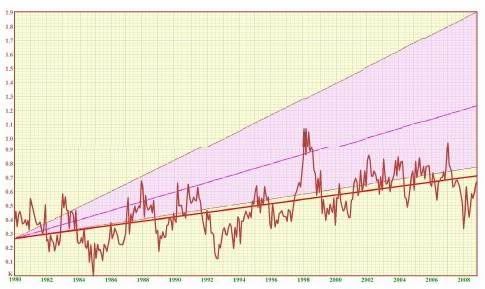 The graph is a composite but each of the averaged data sets shows the same

It is apparent that the global temperature did "overshoot" the pre-1998 trend but had returned to the trend by 2001. The global temperature has fallen since. Hence, there is no "process of radiatively dissipating" and if there were such a "process" then it had ended by 2001.

Secondly, there is no reason to suppose that warming will resume in "roughly 2020". However, as I have repeatedly explained, it may - or may not - resume around 2030.

Anybody who looks at the records of recent global temperature (i.e. the most recent millennia) can see a series of cycles that are overlaid on each other. For example:

1.There seems to be an apparent ~900 year oscillation that caused the Roman Warm Period (RWP), then the Dark Age Cool Period (DACP), then the Medieval Warm Period (MWP), then the Little Ice Age (LIA), and the present warm period (PWP).

And 2. There seems to be an apparent ~60 year oscillation that caused cooling to ~1910, then warming to ~1940, then cooling to ~1970, then warming to ~2000, then cooling since.

So, has the warming from the LIA stopped or not? That cannot be known because the pattern of past global temperature fluctuations suggest that the existing cooling phase of the ~60 year cycle is opposing any such warming. And that cooling phase can be anticipated to end around 2030 when it can be anticipated that then either

(a) warming from the LIA will continue until we reach temperatures similar to those of the MWP

Or

(b) cooling will set in until we reach temperatures similar to those of the LIA.

This brings us to the political point that derives from the above scientific facts.

It is a scientific conclusion that the above data does not indicate whether future warming or cooling will occur. And it is a political decision to ignore that unarguable scientific conclusion. But deniers of natural climate change do ignore it and they proclaim that human activities alone cause global warming: their climate change denial is pure superstition.

Deciding to respond to the clear scientific conclusion by preparing for the possibilities of warming or of cooling would be a political decision (with a precedent that the Bible says goes back to Joseph in the Bronze Age: Genesis 31) based on the scientific evidence. And deciding to prepare for only warming or only cooling would also be a political decision, but it would be based on superstition and would have high risk.

Importantly, there is no clear evidence in the data for the existence of anthropogenic (that is, man-made) global warming (AGW) induced by increases to atmospheric carbon dioxide concentrations or anthropogenic emissions of carbon dioxide. The emissions and the concentrations of carbon dioxide have increased (the atmospheric concentration has increased by ~5%) over the last decade while the global temperature has fallen. Indeed, the Southern Hemisphere started to cool about 20 years ago and this cooling spread to include the Northern Hemisphere about 10 years ago.

However, advocates of AGW use the Precutionary Principle saying we should stop greenhouse gas emissions - notably carbon dioxide emissions - in case the AGW hypothesis is right. But that turns the Principle on its head.

Stopping the emissions would reduce fossil fuel usage with resulting economic damage. This would be worse than the 'oil crisis' of the 1970s because the reduction would be greater (the European Union suggests 80% reduction!), would be permanent, and energy use has increased since then. The economic disruption would be world-wide. Major effects would be in the developed world because it has the largest economies. Worst effects would be on the world's poorest peoples: people near starvation are starved by it.

All human activity is enabled by energy supply and limited by material science. The energy supply permits the growing of crops, the manufacture of tools, and the provision of goods, services and constructions. Material science limits what can be done with the energy (e.g. a steel plough share is better than a wooden one, ability to etch silica permits adequately reliable computers, etc.).

Wind power, biomass power and animal power were abandoned when the greater energy intensity of fossil fuels became available by use of the steam engine. The increased energy supply enabled more people to exist and the human population exploded. The population is now about 6.6 billion and all estimates indicate that the present population growth will continue and is likely to peak at around 9 billion in the middle of this century. That additional more than 2 billion people requires additional energy supply.

Billions of people – mostly children – will die from lack of energy without that additional energy supply. Reducing the energy supply would kill more millions – probably billions – of people.

Replacement of fossil fuels by wind and solar is not possible because the laws of physics do not allow it. Only an increase to nuclear power could make much reduction to use of fossil fuels and that reduction is limited because many activities require energy that is not only available where there is a wire.

A cut of 80% in carbon dioxide emissions would require a similar reduction to use of fossil fuels.

So, man-made global warming is not a global crisis but the unfounded fear of it is. That fear threatens a constraint of fossil fuel use that would kill millions – probably billions – of people.

In conclusion, the fact that the globe is in a period of global cooling needs to be advertised, and silly excuses for it - such as those from RealClimate - need to be loudly refuted.

All the best

Richard