Articles Tagged "Richard Lindzen"
Sorted by:
Date Posted
|
Views
Tuesday, April 21st 2009, 6:52 AM EDT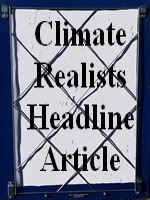 Environmentalism, ideally, is a broad and pluralistic movement that embraces diverse ideologies and myriad disagreements, unified only by a shared and sincere concern for the health of the natural world. Aside from this core value, how individuals and organizations practice their environmentalism must and should display infinite variety, because how love for the natural world is balanced with empathy for the aspirations of humanity is never easy.
Environmentalism in this broadest sense is a value that has acquired a welcome momentum in recent years, but challenging this ideal, pluralistic version of environmentalism are powerful political agendas. These agendas have become mainstream and monolithic and incorporate foreboding certainties centered on two fundamental planks: (1) We are running out of resources at a terrifying rate, and (2) we are perilously near to a "tipping point" after which it will be too late to save our planet from total catastrophe due to anthropogenic greenhouse gas emissions. We categorically reject both of these planks, and we are environmentalists.
Please click source link to read FULL article by Richard Lindzen
H/T Tom Nelson BlogSpot
Source Link:
ecoworld.com
Tuesday, March 31st 2009, 11:55 AM EDT
Excerpt: The earth's climate (in contrast to the climate in current climate GCMs) is dominated by a strong net negative feedback. Climate sensitivity is on the order of 0.3°C, and such warming as may arise from increasing greenhouse gases will be indistinguishable from the fluctuations in climate that occur naturally from processes internal to the climate system itself.
Please click source article for more links
Monday, March 16th 2009, 5:14 AM EDT
Richard said a few inconvenient things
- like his opinion that most of the best atmospheric physicists do endorse the warming alarm (for the sake of convenience) but the reason to respect them is very different than a work on AGW.
Later, he discussed the dynamically awkward nature of positive feedbacks and the scientifically grotesque one-dimensional simplifications of the climate promoted by the AGW movement. As a path to victory over AGW, which he believes has to occur at some point in the future, he recommends mass resignations from various scientific societies.
See the full
proceedings
of the 2009 Heartland International Conference on Climate Change. There were many talks I really liked. For example, look at John Sununu whom I know from a
2005 debate in Boston.
Friday, October 31st 2008, 4:37 AM EDT
The introduction to Richard Lindzen paper "Climate Science: Is It Currently Designed To Answer Questions?" from Ed Ring has some interesting point's, if you have not read the paper before then EcoWorld.Com has it in full.

Has global warming alarm become the goal rather than the result of scientific research?
by Ed Ring

When the history of the early 21st century is written, it may be the financial health of the global economy was rescued by a new currency, carbon. This new asset class, fungible and tradeable, reinflated the balance sheets of governments and international financial institutions alike, and pulled humanity back from the brink of a worldwide depression. That is the hopeful scenario, and not one to be lightly dismissed.

Monday, September 29th 2008, 7:56 AM EDT
This is a follow up to Professor Richard S. Lindzen
"Climate Science: Is it currently designed to answer questions?"
From The American Thinker
Corrupted science revealed
by Jerome J. Schmitt
Outsiders familiar with the proper workings of science have long known that modern Climate Science is dysfunctional. Now a prominent insider, MIT Meteorology Professor Richard S. Lindzen, confirms how Al Gore and his minions used Stalinist tactics to subvert, suborn and corrupt a whole branch of science, citing chapter and verse in his report entitled "Climate Science: Is it currently designed to answer questions?" His answer: A resounding "NO!"
Tuesday, September 23rd 2008, 3:41 AM EDT
From ArXiv.Org

Climate Science: Is it currently designed to answer questions?
New paper by Richard Lindzen

'Political bodies act to control scientific institutions' & Adjust data and theory 'to accommodate politically correct positions'

For a variety of inter-related cultural, organizational, and political reasons, progress in climate science and the actual solution of scientific problems in this field have moved at a much slower rate than would normally be possible. Not all these factors are unique to climate science, but the heavy influence of politics has served to amplify the role of the other factors. Such factors as the change in the scientific paradigm from a dialectic opposition between theory and observation to an emphasis on simulation and observational programs, the inordinate growth of administration in universities and the consequent increase in importance of grant overhead, and the hierarchical nature of formal scientific organizations are cosidered.

66 articles found
showing page 7 of 7
« previous
1
2
. . .
6
7
next »