Articles Tagged "Exclusive"
Sorted by:
Date Posted
|
Views
Monday, March 23rd 2009, 2:10 PM EDT
Nukes Expansion & 'Enviro-spin Agenda 'Reckless Risk to the world's future' based on 'disproved pseudo-science' of Global Warming

=> CO2 centred Global Warming /Climate Change theory now disproved at International Conference.
=> New scientific breakthroughs by Piers Corbyn show world locked into general cooling to 2030
=> Tropical Cyclone Isla off NW Australia breakthrough for long range extreme weather forecastining.
=> Long range forecasting of extreme weather and climate becoming reality for world.
=> Govt challenged to apply front line science to "put safety of public ahead of failed ideology"

Further discussion at WeatherAction Public Press conference Frid 27 March 12 Noon 175 Borough High st SE1 (and every last Friday of month)

Please download PDF file to read FULL report
Thursday, March 19th 2009, 3:47 AM EDT
MONITORING REPORT FOR SWIP (Solar Weather Impact Period) "Around 15-17 Mar 09" 3 extreme weather events forecast announced at Press conference London 27 Feb and in Forecast bulletin 28 Feb 09. The forecasts (espec US/Canada Snow/rain & Cyclone off NW Australia) were also announced at the final plenary session of the International Climate Change Conference New York by Piers Corbyn on 10 March (his birthday!).

=> Severe gales in Scotland & North Sea (Ew0909)
=> Heavy snow & rain in Central Canada /USA & NE USA (Ew0910)
=> Tropical Cyclone off NW Australia (Ew0911)

Please download the PDF file to read the FULL report
Saturday, March 14th 2009, 2:36 AM EDT
Richard Courtney has commented on the following DotEarth Blog
Scientist: Warming Could Cut Population to 1 Billion
.
OK. So, Schellnhuber is said to have asserted that if emissions of greenhouse gases - notably carbon dioxide (CO2) - were to rise by 7 deg.F then 5 billion people could die.
Hans Joachim Schellnhuber, the director of the Potsdam Institute for Climate Impact Research in Germany, said that if the buildup of greenhouse gases and its consequences pushed global temperatures 7 degrees Fahrenheit higher than today — the upper temperature range that scientists project could occur from global warming — Earth's population would be devastated."In a very cynical way, it's a triumph for science because at last we have stabilized something –- namely the estimates for the carrying capacity of the planet, namely below 1 billion people,"
But
constraining carbon dioxide emissions at their present level would deliberately kill at least 2 billion people - mostly children – before the middle of this century.
And reducing the emissions would kill more millions – possibly billions – of people.
This would be a genocide of a magnitude not previously possible in all human history.
Saturday, March 14th 2009, 2:08 AM EDT
I think we're all being a bit too hard on Revkin. He is, after all, only doing his job... to support and defend the liberal editorial policies of his employers. In case you haven't noticed, the New York Times - once arguably one of the premier news sources on the planet - is slowly dying. It hasn't had a genuinely honest journalist on it's staff in more than two decades, and anyone who attempts to put the Genie back in the bottle at this late stage of the game would likely find himself out of a job.

It's also important to understand that Revkin lacks the in-depth academic background in physics and math necessary to genuinely understand the molecular radiation absorption/emission phenomena associated with the mis-named "greenhouse effect". Undergraduate biology students aren't typically handed a large plate of coupled 2nd order partial differential equations. Can you imagine the scalping knives that would come forth if Revkin were to write, "Golly, it looks like CO2 doesn't really play any serious role in the heating of the atmosphere, and the so-called "greenhouse effect" really only affects the speed with which the air cools after the sun goes down." The NYT would drop him faster than the ball in Times Square on new year's eve.
Wednesday, March 11th 2009, 3:54 PM EDT
Press release

Piers Corbyn, Astrophysicist of WeatherAction announced on March 10th (his birthday) to the conference two major advances in the solar weather prediction process.

- "SLAM & VIPH will revolutionize understanding of weather and Climate"
- "World cooling now locked in for over two decades"

Firstly, Mr Corbyn identified a specific lunar influence that amplifies the solar magnetic effect on the earth. The peak of this effect occurred in 2002, which coincided with the major sixty year peak of two year running average in world temperatures. This effect appears to switch the "Pacific Decadal Oscillation" (PDO) cycle from thirty years of warmer to a thirty years of cooler ocean. This process he named as the "Solar Lunar Amplified Magnetic" (SLAM) effect. This signal will assist in the identification of periods of extremes in world weather as well as general climate forecasting. The approximate sixty year cycle of Pacific temperatures, world temperature and many weather and climate phenomena are a direct consequence of the SLAM process under this theory" said Piers,
Tuesday, March 10th 2009, 9:15 AM EDT
Revkin is CC'd on this email.
Andrew Revkin's attempt to smear skeptics detailed! Implies Skeptics should rally around one explanation other than CO2! – March 9, 2009
Dear Andy,
Your NPR interview is pure nonsense!
Climate Skeptics Gather In New York City
Skeptics Dispute Climate Worries and Each Other
But it is exactly what your New York Times audience and NPR's audience expects -- a thorough discrediting of those pesky skeptics who don't agree with the UN IPCC or the "civilized" world.
Sunday, March 8th 2009, 4:13 PM EDT
An inert object can only emit as much radiant energy as it absorbs. But this has never stopped greenhouse effect theorists from trying to convince you otherwise.
Here's what happens when a CO2 molecule absorbs infrared light at a particular frequency.
http://oceanworld.tamu.edu/resources/oceanography-book/Images/carbon.gif
it vibrates - meaning, it heats up – and then transmits this energy as light in all possible directions. In other words, the molecule radiates when excited. Important to understand is that a CO2 molecule does not absorb infrared light of every frequency (color), only a few. Being a gas, it lets most radiant energy pass right through.
Please download the PDF file to read the FULL report
Friday, March 6th 2009, 2:21 PM EST
"The truth is that promoting science isn't just about providing resources—it's about protecting free and open inquiry. It's about ensuring that facts and evidence are never twisted or obscured by politics or ideology.. It's about listening to what our scientists have to say, even when it's inconvenient—especially when it's inconvenient. Because the highest purpose of science is the search for knowledge, truth and a greater understanding of the world around us. That will be my goal as President of the United States—and I could not have a better team to guide me in this work."
These words essentially mark the end of the climate change issue, because there are no actual facts that support the premise and "the free and open inquiry" that had been denied to all the top level scientists attempting to get the facts to the public should see the truth flood the press. (example
http://www.john-daly.com/history.htm
)
Friday, March 6th 2009, 1:17 PM EST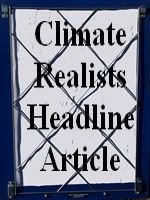 I write to report on a debate that defeated the motion "This House Believes Global Warming is a Global Crisis" during a meeting of the St Andrews University Debating Society. It is difficult to arrange a debate of anthropogenic (that is, man-made) global warming (AGW) because few proponents of AGW are willing to face such debate. They know from past experience that they always lose such debates because there is no evidence that AGW exists and much evidence that it does not.
However, on Wednesday 4 March 2009, the St Andrews University Debating Society held their debate of the motion, "This House Believes Global Warming is a Global Crisis" in the Old Parliament Building, St Andrews. The debate was organized and presided over with exemplary efficiency and professionalism by the Speaker of the Society, Ms Jessica Siegel. It was conducted with all the pomp and ceremony that could be expected of an ancient society of so ancient and prestigious a university.
Updated below by Richard Courtney
Wednesday, March 4th 2009, 2:25 PM EST
Kyle Swanson and Isaac Held make some odd comments in the Discovery News article (CCNet 3/3/09), which questions where global warming went.

Apparently, the 'radiative forcing' of CO2 will stay in an unknown hiding place for 30 years and then jump out on us! This sounds like an excuse for buying more time for the failing hypothesis which attempts to implicate CO2 as THE driver of climate. They also seem to claim that natural variability largely manifests itself as cooling rather than warming.