Articles Tagged "Cartoon"
Sorted by:
Date Posted
|
Views
Sunday, December 6th 2009, 5:05 AM EST
Click Source to see more!
Wednesday, December 2nd 2009, 5:21 AM EST
Image Source
How many Emperor's will be found naked at Copenhagen?
Sunday, November 29th 2009, 5:27 PM EST
Cartoon source
Now that some enterprising and possibly conscience-stricken soul has served up the emails and other data of the Climate Research Unit (CRU) of the University of East Anglia, revealing the deliberate efforts to hide the corrupted research that justifies the "global warming" fraud, all the various journalists and alleged climate scientists who have been a party to it are trying desperately to cover up or minimize the scandal.
Sunday, November 29th 2009, 12:13 PM EST
Source Link:
investors.com
H/T Investors.Com
Monday, September 28th 2009, 3:45 PM EDT
Cartoon taken from the Skeptics Handbook by Joanna Nova
"
Hypocrisy can afford to be magnificent in its promises, for never intending to go beyond promise, it costs nothing" Edmund Burke
I experienced two apparently disparate events recently. Both speak to the magnificent hypocrisy Burke identifies. They also illustrate Burke is wrong when he said it costs nothing. We're all paying and will continue to pay for hypocrisies in climate science and research funding.
Monday, August 31st 2009, 12:57 PM EDT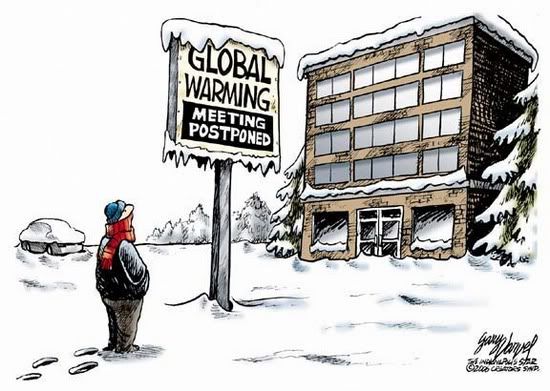 It is High Time to be a Climate Realist
Click to download PDF file: Observations vs. Models (It's High Time to be a Climate Realist) by Paul C. Knappenberger from mnfmi.org
Wednesday, June 17th 2009, 9:25 AM EDT
Sometimes a picture can say a 1000 words!

Many thanks to Janet Hufnagel Thompson from Western Australia.
Tuesday, June 2nd 2009, 4:18 AM EDT
Source Link:
ecorazzi.com
At two Memphis, Tennessee Burger King locations last week, the words "Global Warming Is Baloney" appeared on signs outside the stores. Naturally, people were a bit confused as to why the chain was promoting such a view. As green blog Twilight Earth noted, repeated calls to the franchise were stonewalled for an explanation. At one point, a Burger King employee confirmed that the language on the sign was in fact the view represented by Burger King International.
Thursday, April 30th 2009, 4:31 PM EDT
We thought we would just show the effect of ice melt on sea level using a glass of cranberry juice, several ice cubes and one cool cat.
Thursday, March 26th 2009, 11:36 AM EDT
Join the following FaceBook group to register your protest against James Hansen - Fire James Hansen - NASA Climate Chief
Artist rendition of a CME