Articles Tagged "Dennis T. Avery"
Sorted by:
Date Posted
|
Views
Monday, April 20th 2009, 4:16 AM EDT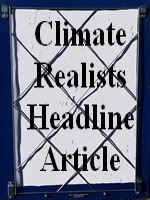 The global cooling trend that began early in 2007 continues. America's official global reading for March, 2009 has been issued by Goddard Space Institute. The month was the coldest of this young century and colder than March of 1990. The satellite records show an even stronger recent cooling trend.
Equally interesting, Goddard says this year's March was just 0.03 degrees warmer than March of 1981, a year when the El Nino/La Nina index was approximately the same as today's. Does that mean the planet's net warming is only three hundredths of a degree C over the last 30 years? Thanks to Czech physicist Lubos Motl for spotting that relationship.
Meanwhile, the Director of the Goddard Institute, James Hansen, recently sent a letter to President Obama saying that Obama has "only four years left to save the earth" from "runaway warming." He told the London Observer in February that "The trains carrying coal to power plants are death trains. Coal-fired power plants are factories of death." Hansen maintains that recent warming has pushed the planet close to a "tipping point" for runaway warming. What recent warming? Three hundredths of a degree C over 30 years, with temperatures still declining, doesn't seem worth ruining the world's economies.
Tuesday, March 31st 2009, 1:37 AM EDT
The atmospheric CO2 levels at Hawaii's Mauna Loa observatory have declined since 2004. How can this be when humans keep emitting more greenhouse gases? Could declining atmospheric CO2 levels mean that the whole Greenhouse Warming theory is collapsing?
Editor Note: This article is under review by the author. It will be revised shortly, certain aspects need to be clarified.
Dial back to 2006, when Al Gore's released his movie, An Inconvenient Truth. Mr. Gore showed us 400,000 years of the ice record from Antarctica's Vostok glacier.
Sunday, March 8th 2009, 3:17 PM EDT
This week, at the 2nd international conference of man-made warming skeptics sponsored by the Heartland Institute in New York, I'll predict the earth's warming/cooling trends for the 21st century.
I will be among splendid company such as John Coleman, founder of the weather channel, Ross McKitrick, who debunked the "hockey stick" study, physicist Willie Soon, and many other presenters with brilliant credentials. A thousand scientists, economists, and skeptics from every walk of life will meet to discuss the current climate indicators.
I'll use physical evidence of the more than 500 warmings in the past million years, which are found worldwide in ice cores, seabed sediments, fossil pollen and cave stalagmites. At least 700 scientists have published evidence on these solar-driven Dansgaared-Oeschger cycles. The good news is that the D-O cycle's warmings have been getting somewhat cooler for the past 10,000 years—and there is no evidence that human-emitted CO2 will make them much warmer.
Tuesday, December 30th 2008, 6:19 AM EST
Your Dec. 26 front page headline (Report: Faster climate change feared for U.S.) makes no sense. We can all feel how much colder the Earth has gotten in the past two years, and cooling is the opposite of the earth-ending warming you've warned about.
Is this new "study" just another effort to distract us from the reality that temperatures are defying the Greenhouse Theory — again?
Monday, December 29th 2008, 7:34 AM EST
Sunspots had been predicting major cooling since 2000..
"2008 will be the hottest year in a century:" The Old Farmers' Almanac, September 11, 2008, Hurricanes, Arctic Ice, Coral, Drinking water, Aspen skiing
We're now well into the earth's third straight harsher winter—but in late 2007 it was still hard to forget 22 straight years of global warming from 1976–1998. So the Old Farmer's Almanac predicted 2008 would be the hottest year in the last 100.
Monday, November 10th 2008, 1:07 AM EST
From The Canada Free press

The "Near-Virtual Reality" of Man-Made Global Warming
by Dennis Avery

"As Barack Obama shifts from a waking dream to the real world, he faces the near-virtual reality of climate change. He has to move decisively." (Ian McEwan, "A New Dawn," Wall Street Journal, Nov. 8/9.)

Tuesday, October 28th 2008, 4:18 PM EDT
From CanadaFreePress

Alaska's Glaciers Are Growing
By Dennis Avery

Alaska's glaciers grew this year, after shrinking for most of the last 200 years. The reason? Global temperatures dropped over the past 18 months. The global mean annual temperature has been declining recently because the solar wind thrown out by the sun has retreated to its smallest extent in at least 50 years. This temperature downturn was not predicted by the global computer models, but had been predicted by the sunspot index since 2000.

Tuesday, October 7th 2008, 5:02 AM EDT
From CGFI.Org (Center for Global Food Issues)

RECORD SOUTH POLE OZONE HOLE PREDICTED
by DENNIS T. AVERY

CHURCHVILLE, VA—A Canadian scientist says the largest known hole in the ozone will occur over the South Pole in the next week. If that happens, it will help us understand global warming.

Thursday, August 28th 2008, 6:30 AM EDT
From CGFI.Org (Center for Global Food issues)

GLOBAL WARMING EVERY 1,500 YEARS–WHAT IT MEANS FOR ENGINEERING
by DENNIS T. AVERY

Hysteria over global warming has gripped the affluent countries of the world.

-Climate modelers claim the earth's temperature could be boosted an astounding 11 degrees C by the additional CO2 being released into the atmosphere as humans burn fossil fuels.

-Dozens of major governments have signed the Kyoto Protocol, which essentially promises their countries will give up all "non-renewable" energy sources— virtually all energy sources except solar and wind.

Wednesday, July 2nd 2008, 3:50 AM EDT
Many thanks to Gary for sending in this report from WebCommentary by Dennis T Avery, the article is a big plus for the supporters of the Sun theory.
Dennis T. Avery is a senior fellow for Hudson Institute in Washington, DC and the Director for Global Food Issues. He was formerly a senior analyst for the Department of State. Readers may write him at Post Office Box 202, Churchville, VA 24421.
A team of water experts says the pattern of droughts and floods in South Africa shows our global warming was triggered by the variability of the sun's irradiance rather than by human-emitted CO2. They say variations in South African rainfall patterns are keyed to periodic reversals of the sun's magnetic field—and to the constantly changing distance between the sun and the earth as both move through space.

In South Africa, alternate 11-year sunspot cycles produce opposite rainfall results. One complete "double sun cycle" occurs every 20.8 years: the "first" cycle brings a big flood, followed by a small drought; the next brings a big drought, followed by a small flood.

Lead author Will Alexander used the double sunspot cycle to publicly predict the end of major South African droughts in both 1995 and 2006. He notes that South African droughts have often been broken at 11-year intervals by severe floods associated with sunspot maxima—as in 1822, 1841, 1863, 1874 and 1885. The research summary appears in the June 2007 issue of the Journal of the South African Institution of Civil Engineering.

The South Africans' conclusion is reinforced by Dr. Robert Baker of Australia, who told a recent meeting of the International Geographical Union that he has found the same 21-year cycle in Australian drought and rainfall. Baker says "the sun is like a musical instrument, vibrating in complex patterns," with all of the planets moving in similar relationships.